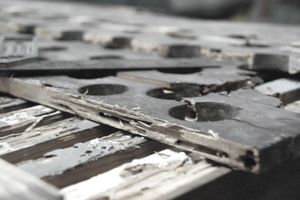 Treating termites before construction starts can help you defend against possible claims in the future. Construction specification for several projects require protection for termite in their finishing, and several others request termite free environment. To help you address this item, we will provide you with some tips that you must incorporate into your construction activities.
Where Are The Termites?
Termites are frequently living where there is a high concentration of moisture and dampness.
In old houses, these are frequent problems because they tend to live in obstructed or blocked water supply and sewerage pipes. Also, there is evidence that inside wood products or decaying wood surfaces are high probability areas for a termite to live in. They end up eating wood and wooden products and articles inside your house.
Pre-Construction Chemical Treatment
Termite treatment in pre-construction stages includes several procedures that must be done to ensure an area of termite-free construction. Treating the soil before any slab placement with insecticides is the most common method of termite treatment. It will form a chemical barrier between the ground slab and masonry that will prevent the insects to approach the building. The chemical treatment can be done as follow:
Bottom and sides of excavation must be treated with chemical products prior to the start foundation work.
Where slabs on grade will be built, make holes in the earth and fill them with chemical products.
Be sure to use chemicals where walls and floors intersect.
Treat the perimeter of the construction by making holes filled with chemicals all around the structure.
In pipe beddings, fill an area with chemical products to secure the future of the piping.
Use specific anti-termite chemical to treat the portion of the buildings were wooden products such as cabinets, doors, among others, will be placed.
Post-Construction Termite Treatment
Not always we can be acting in the pre-construction chemical treatment, so there will be to react and try to catch up with a different approach.
To start with an assessment of the entire area, you will need to determine the extent of the damage, if any, the location of the termite, the access points to the structure and their spread in the area. The following tips should be kept in mind during chemical treatment.
As in the pre-construction process, make holes and filled them with chemicals, to create a barrier around the house.
Treat the floors and walls by drilling holes and filling them with chemicals. All walls or the vast majority should be treated to ensure that no more spreading will continue.
Apply chemicals on all points of contacts of wood with the ground or with any part of the building.
Also, treat the voids in masonry with anti-termite treatment.
Change and replace wood products or furniture that have high impact and presence of termites, beyond any limit of reparation.
Safety Measure When Dealing with Termites
When all measurements have been taken, perform these simple steps to ensure that your area keeps free of termites.
Keep drains and gutters clean to avoid leakage. Make sure that there are no blocked lines, no filtration nor broken pipes with excess moisture around them.
Eliminate all sources of moisture. Do not leave unattended areas where there is a high concentration of humidity. Clean those areas periodically.
Apply chemicals as soon as you detect areas where termites are being reunited.
Remove wood products that have had the presence of moisture or have been in contact with water for a prolonged time.
Eliminate the wood contact with the ground
Do not bury direct pieces of wood in the ground for any use.
Fill junctions or voids.