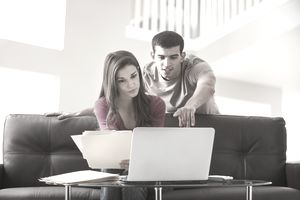 Online is a great place to find tenants for your rental property. Some sites will make you pay a fee to post your ad, but Craigslist does not. Posting an ad on Craigslist for a vacancy at your rental property is easy and free. Here are the simple steps to get your ad up so you can start screening new tenants for your rental.
Step 1:
On your web browser, go to www.craigslist.com or www.craigslist.org.
Either URL will take you to the site.
Step 2:
On the right side of the page, click on the state or location where your property is located. 
Step 3:
Log in to your account. If you do not have an account with Craigslist, it is simple to create one. You will need to provide a valid email address and create a password. In addition, Craigslist will often require you to validate your account by linking it to a valid phone number. You must also agree to the Craigslist terms of use in order to enable your account.
Step 4:
Once you are logged in to your account, there should be a tab on the top that says "new posting." Click on this link.
Step 5:
You are then given a choice as to what location you would like to "post your new ad in". Click on the appropriate area and click "go". 
Step 6:
You are now given a choice as to what type of classified ad this is. Click on "housing offered," and hit continue.
Step 7:
On the next screen, you will choose what category your housing is.
You will have several options including apartments for rent, rooms and shares, sublets and temporary and vacation rentals. Assuming this is a traditional rental, you will choose "apartments for rent" and hit continue.
*Steps 8 and 9 only apply to certain areas, such as New York City and Chicago. In many areas, after Step 7 you will be taken straight to Step 10.
*Step 8:
Assuming you own the investment property you are trying to rent out, you will then click on "apartments by owner" and click continue.
*Step 9:
The next screen will give you an option of an area to post the ad to. Click on the area that best describes the location of your property. For example, some choices in the New York City Area are: Manhattan, Brooklyn, Queens, Bronx, Long Island, and New Jersey. If your property is located in Brooklyn, then click Brooklyn and continue.
Step 10:
You are now taken to the page to create your ad. Fill out all required fields including rent, street address, and property description. Uploading pictures of the property is a must, as many people will not reach out about an apartment if they do not see pictures first.
Craigslist will automatically anonymize your email address. You can change it to show your actual email address, but I wouldn't recommend it as there is the possibility of having your email address picked up by spammers on Craigslist. When done, click next.
Step 11:
You have one more opportunity to review your ad before it goes live. Once you are satisfied with it, hit continue.
Step 12:
It may take to up to two hours until your ad is live on the site.
To check if your ad is live, go back to Craigslist. On the right, click on the area where your property is located. Under housing, click on "apartments/housing." In the search bar on the top, type in the address of your property. If your ad appears, you are good to go!
Tips:
Your ad will be live on the site for 45 days.
You have to wait 48 hours to post another ad.
When the ad expires, Craigslist offers you the option to repost it. You can see the ads you have posted by going to the "Your Postings" tab after you have logged in. You can go to the expired ad and simply hit repost to post the same ad again.
Once your vacancy has been filled, you should take down all ads for the property. Again, after logging in, you will go to the "Your Postings" tab, find the ad and click remove.