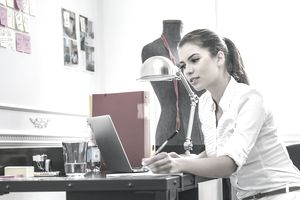 "A small leak will sink a great ship." This is a wise and famous quote by Benjamin Franklin. Entrepreneurs should follow this philosophy , as it isn't just a witty quote, but a true observation of what can happen in business. Small expenses accumulate over time and can seriously impact profit margins if left unchecked. eBay fees are no different. Just as you re-evaluate monthly expenses like cable TV, internet, cell phone, or life insurance, it's wise t to re-evaluate eBay fees to make sure you are paying the lowest amount possible for your unique business.
Here are  a few tips for how and where to check fees on  your eBay account and make sure everything is in order.
Be Careful with Listing Upgrades
Listing upgrades are those features like bold, highlight, and subtitle that eBay claims make items sell better. If you happen to get on the phone with eBay and ask for help with sales, they will no doubt try to sell you on listing upgrades. Remember that most of the eBay customer service reps on the phone are in a different country like Costa Rica or India, at a call center, and have no experience selling on eBay. They are simply reading scripts. I have personally tested these and found no difference in sales using listing upgrades, but you be the judge for your own business. Everyone's business is different. Listing upgrades can cost up to $4 per listing, so test them out on a few listings first, then make your decision. Adding a $4 fee for a bold title to 200 listings is very, very expensive.
Also be aware that sometimes eBay slips in the "enlarge gallery photo" option for $1 on listings. Always check the bottom of the page for your total fees before submitting a listing. Make sure it says zero, 20 cents, or whatever is correct for your store subscription level. If you hit submit and eBay has snuck in an upgrade, you still have to pay it.
Always review listings before pressing submit on a listing. 
Start With the Profit Calculator
Start at the lowest level - meaning each individual transaction. After you have been selling on eBay for a while, you won't really need this tool but it is helpful for beginners. Before you buy an item for resale, or list something lying around the house, make sure it is going to be profitable and worth your time. The best strategy is to shoot for a specific dollar amount of profit per item. It takes the same amount of time (generally speaking) to list a $5 item as it does a $50 item. Concentrate on selling higher dollar items so that you are earning the maximum money per hour possible.Some sellers adhere to the "3 times rule" which means that the item should sell for 3 times what you paid for it. This rule isn't practical if you only paid 50 cents for an item. This rule also comes from the regular retail world where margins, market conditions, and everything else is different from eBay. 
A great free tool to use for figuring out profit is the New Life Auctions eBay and Paypal Calculator. Simply fill out the price you paid for the item, your desired selling price, the listing format (auction, fixed price, or store), shipping fees charged to the customer, shipping to be paid by the customer, and the calculator will show your profit per item.
When you boil it down to the nitty gritty, each individual sale adds up so make sure you are making money on each sale. See a demo here. There are also apps for eBay profit calculating that you can use on your phone and most are free. 
To grow your eBay business, set a minimum profit goal for each item. For example, if your desired profit it $10 per item, and you sell 50 items a month, your total profit will be $500. Increase that minimum profit to $20 per item, your total profit grows to $1,000 a month. The devil is in the details. Make sure you are selling profitable items and not just keeping yourself busy with listing and shipping. If you aren't sure that your business is profitable, this spreadsheet will help.
Re-Evaluate Your Store Level
eBay offers several store levels. You could receive a discount on fees when upgrading or downgrading to a different level.
The store subscription level needs to work for your unique business. Life changes and the store level you needed last year may not fit for this year. For example, if you are getting ready to move across the country with a job transfer  and downsizing your inventory, you don't need a higher store level. The fees are as follows:
Basic Store $24.95 per month, 250 free listings, 20 cents for each fixed price listing after 250 free
Premium Store $74.95 per month, 1,000 free listings, 10 cents for each fixed price listing after 1,000 free
Anchor Store $349.05 per month, 10,000 free listings, 5 cents for each fixed price listing after 10,000 free
See the full details on eBay store fees here.
Use the eBay Fee Illustrator calculator to determine which store level is best for your business. It is a good idea to check your numbers every few months to verify you are paying as few fees as possible.
An eBay business can evolve over time just like any other business. Stay knowledgeable about fees and expenses. There isn't anyone else monitoring your business so it is up to each individual seller to stay informed of the fees and how they are applied to the monthly summary. Remember that a small leak will sink a great ship. Don't let little eBay fees cost you more than they have to in the long run.
Updated by Suzanne A. Wells on July 31, 2017.