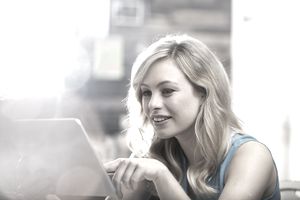 To talk to eBay about any listing or transaction, you'll need to know the item number of the listing in question. The item number is automatically generated as soon as you submit your listing, and it becomes visible to buyers as soon as your listing goes live. Item numbers are used to identify items for sale, and those same numbers become tools for tracking packages once they are sent, managing complaints, and otherwise handling the disposition of an item.
eBay also allows users to search the site by item number. So if a buyer has found your product and wants to find it again quickly, he can just plug the item number into search and -- voila!
Where Is the Item Number on eBay?
There are two ways to find the item number for an eBay listing: you can either find the item number on the listing itself, or by visiting My eBay if it is an item that you are watching, have bid on, bought, sold, or are currently selling.
How to Find an Item Number in the Listing
Item numbers are actually fairly easy to find in item listings. On a computer in a web browser, visit the item listing in question and look toward the lower-right corner of the header area (the upper-right corner of the item's Description). There you'll see a label something like this:
eBay item number: 150796106903
The number after the colon (:) is the item number for the listing in question.
How to Find an Item Number Using My eBay
To find an item number using My eBay, follow these steps:
1. Click on the My eBay tab at the top of any eBay page.
2. On the right-hand side of your My eBay page, click:
Watch if it's an item in your watch list

Active (under "Buy") if it's an item you've placed a bid on

Purchase History if it's an item you've already won or bought

Active (under "Sell") if it's an item you're currently selling

Unsold if it's an item that didn't sell

Sold if it's an item that has found a buyer
3. Item numbers appear just to the left of the listing title for each item in the displayed list.
Finding an Item Number for Products You've Sold
You've sold an item and want to be sure you've received the correct payment for the correct item. You can do this in one of two ways: through eBay or through PayPal.
To do this on eBay:
Sign into eBay.

Click My eBay at the top of most eBay pages.

Click the Sold link in the Sell section on the left side of the page.

Locate the item you want to check and click the item title.

Click the View PayPal Transaction link at the top of the next page. You may need to sign into your PayPal account.
To do this through PayPal, you will need to check your IPN or Instant Payment Notification. Included in the information provided through the IPN is your item's eBay number.
Here is how to be sure you receive an IPN for each item you sell:
When a customer makes a payment to you or a payment is reversed or refunded, PayPal will post a notification to your server at the URL you specified. Included in this notification will be all of your customer's payment information (e.g., customer name, payment amount) as well as a piece of encrypted code. When your server receives a notification, it will then post the information, including the encrypted code, back to a secure PayPal URL.
PayPal will authenticate the transaction and send confirmation of its validity back to your server.
Note: To activate Instant Payment Notification, you will need to enter the URL at which you would like to receive the notification posts from your profile.