How to Donate to Charity With Your Smartphone
Give to Charity Anytime, Anywhere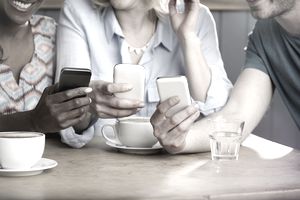 Mobile giving has become the big story in philanthropy recently. Now that most Americans own smartphones, it's easy to donate to favorite causes using those phones and there are many ways to do so.
For instance, since it's easy to surf the web with a smartphone, you can go right to a charity's website and donate.
You can also donate while hanging out at your favorite social site.
Facebook now makes it easy to donate right on its site or to reach a charity's website when you see a fundraising appeal. You can even team up with a charity to help raise funds from your family and friends. Just click the Donate button when you see it on a charity's FB home page, or in a post, or when a charity runs a special peer-to-peer crowdfunding fundraiser. 
Even Twitter has started experimenting with a donate ability where certain charities can accept donations through the Twitter app. Twitter makes it easy to give frequently because your credit card info is stored and available the next time you want to click on a Donate button. Charities send out a receipt that you can use for tax purposes.
Donating by Text Still an Option
Although giving by text became popular when many of us only had "flip phones," many charities still encourage donations through mobile texting, especially for domestic or international emergencies. Texting works no matter what kind of cell phone you have.
The significant breakthrough for texting donations came in 2010 when the American Red Cross launched its massive campaign to raise money for the Haiti earthquake. That event set new records for fundraising.
While the adoption of smartphones in recent years, with their ease of donating through social media or just surfing to a charity's website, has overshadowed text-to-donate, it's still popular with certain generations and in specific situations.
For instance, Millennials and Gen Xers text donations more than older generations. That might be because texting a donation is popular at big events such as a football game or a big concert.
If you have not donated by text and would like to experiment the next time a text-to-give campaign beckons, just follow these simple directions.
How do you text a donation?
First, find out the letters (keyword) to text and the number (short code) to send it to, depending on which charity you wish to support.
Text-to-give campaigns are ideal for all kinds of media, so you will likely hear about a particular text to give campaign and the keywords and codes, from the radio, while surfing the Internet, from your TV, or from your friends on your social media.
So, when you hear or see the information, grab your phone and start texting.
For example, you might text the word "CHARITY" to the number 491062 and hit send. That, in this hypothetical case, would trigger a donation to the charity.
Wait to receive a text message asking you to confirm your donation. Click "yes." Your donation will not take effect until you confirm it.
Your gift (usually limited to $5 or $10) is charged to your mobile phone bill. Your donation goes to a company, such as mGive, that specializes in mobile donations.​
That company may charge a small fee for the transaction, which comes out of the donation to the charity.
In some cases, such as an emergency, the processor may waive the fee. Your phone company may or may not charge you text fees depending on your mobile phone plan.
You may be able to repeat your text donation up to a set amount, again depending on your phone carrier. Your gift will appear on your mobile phone bill.
Don't expect a thank you other than a short text message automatically generated on your phone. One of the features of mobile fundraising is that the charity receiving your donation does not know your name or address.
So, save your phone bill to use as a receipt if you plan to claim a tax deduction for the donation.
Exciting Trends in Mobile Giving
QR Codes are a promising alternative to using keywords and shortcodes to send a donation via your mobile phone.
QR Codes are those black and white barcode-type marks that we see everywhere now, from receipts at the grocery store to advertisements in magazines. Some charities even include QR Codes in their direct mail fundraising appeals.
Some cause-marketing campaigns use QR Codes so that consumers can make a donation through their phones.
You just scan the QR Code with your smartphone. A custom website pops up where you can make a donation.  Sometimes you can use PayPal allowing you to sign in rather than typing in your credit card number.
The beautiful thing about QR Codes is that you're not limited to a certain donation amount, and there are no text fees from your mobile carrier. Watch for charitable fundraising campaigns that use the text-to-give format and QR Codes.
Give While You Work Out
Crowdfunding works beautifully for any charity run or walk. The whole idea behind these types of events is to get participants (you) to ask friends and relatives to sponsor your walk or run.
People pledge or donate through your mini-fundraising campaign. The charities who run these events make it super easy to set up your campaign.  
You'll want to use your mobile device to send out your appeal before the event and then send updates, photos or video before, during, and after the race. 
Charity App Heaven
Special apps for your smartphone are everywhere now. And they just keep getting more creative.
For instance, if you want to donate to charity while you're out on your morning run, Charity Miles will track your distance and other vital statistics and make a donation to a charity of your choice for every mile you run.
Are you a globetrotter, interested in helping anywhere? Then Share the Meal would be perfect for you. It's an app from the United Nations World Food Programme. 
For as little as 50 cents you can buy a meal for a needy child.  The app even encourages friendly competition by letting you know how many meals your friends have donated. 
Always snapping photos with your phone? You can turn them to good with Donate a Photo. 
For every photo you share through this app, Johnson & Johnson donates $1 to a good cause. Your photo becomes part of a gallery, and it costs you nothing. Thousands of photos have been shared in this way.
Mobile giving has grown like topsy.  My guess is that we'll be giving to our favorite causes more and more with our mobile devices, and it will likely get even easier to do.