10 Ways to Become an Inspired Philanthropist
From Checkbook Philanthropist to Inspired Giver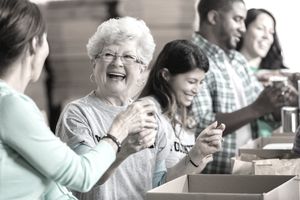 Tracey Minkin and her husband decided a few years ago that they should donate five percent of their income to good causes.
Each January they hold their "budget summit," and decide what they want to change in their giving for the year ahead.
The couple keeps track on a spreadsheet where they can compare giving from previous years, and project how much  and to whom they'll be able to donate. They discuss the impact they hope to have, new nonprofits they might be interested in, and make sure that they support local, national and global causes.
Tracey Minkin is an inspired philanthropist. Her story is one of many that Tracy Gary, a long-time philanthropist and advisor to philanthropists, relates in her wonderful book, "Inspired Philanthropy: Your Step-by-Step Guide to Creating a Giving Plan and Leaving a Legacy."
"Inspired Philanthropy" makes the point that you do not have to be rich to be a philanthropist, but neither do you become one just by writing a check to a charity once a year.
Philanthropy is about thought, care, deliberation, going beyond the expected, and becoming involved. It is about bringing your giving in line with your hopes for a better world.
"Inspired Philanthropy" has helped many readers think in a new way about how they give and organize their giving.  The books can lead you through a personal analysis of what you want to do with your giving pick the best charities for your goals.
Here is a short version of the "Quickstart Guide" to inspired giving from this wildly useful book
Quickstart Guide to Inspired Philanthropy
Begin with your values and passions. Choose two to five issues, populations, or approaches. Weigh these against what the community needs and your ideas of how change happens.
Clarify what you want to accomplish with your charitable giving.
Think about your immediate and lifetime giving. How much do you want to give now, or in the future? What will be your lifetime impact?
Learn more about those areas you care about by talking with others and doing research. Refine your priorities.
Research which groups match your mission and learn more about them. Check out the leadership of the organization, its vision, budget, productivity, and partnerships. Consider becoming more involved as a volunteer, board member, or board committee member.
Decide what percentage of your giving you want to direct to each area of interest and the types of strategies you want to fund.
Decide how you want to make your giving decisions. Will you go it alone or with others through a giving circle or a church group? 
Decide how you want to be involved with the organizations you fund. The best donors get involved with their causes by becoming volunteers or activists.
Think about your lifetime contributions and leadership through estate planning and conversation with your family about values and community needs.
Join with others to consider the big issues, such as global warming, economic development, education, electoral reform, or health care.
"Inspired Giving" walks you through each of these steps, in depth, and even includes worksheets, a multitude of tips and charts, and plenty of personal stories from donors.
It is really a book that you will consult again and again as you plan your giving.