How Often Should Your Nonprofit Thank Monthly Donors?
Getting Beyond the Receipt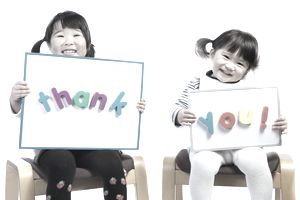 People often ask me, is it important to thank a recurring donor every month?  The answer depends on how they gave in the first place.
When the Monthly Donation Comes Through Offline Methods.
When someone becomes a recurring donor offline, say through direct mail, telemarketing, face to face, or TV, I always recommend sending an immediate snail mail thank you letter.  But, after that first contact, don't send another thank you every month.
That's just too much and will likely turn your donor from love to annoyance.
Besides, It costs money to send a thank you via snail mail which defeats the purpose of having someone join as a recurring donor. However, you should send a tax receipt in January of all their gifts, so they have it for their records and, of course, you should always thank monthly donors in your annual appeal letter, recognizing them as special.
Online Monthly Donor Receipts: Make them Personal and Special 
For online credit card monthly donors, a thank you email is typically generated automatically every time the donation is made. 
Even though your online donor gets an email receipt, send a snail mail letter to thank her for joining your monthly giving program. Online donors appreciate having a mailed letter just as much as anyone else. And, besides, that email might not even be seen.  Also, send the year-end tax receipt via snail mail (and email) in January.
Now, it's likely that an email receipt will be issued every month when the donor's contribution is made. But don't just sent the same receipt over and over.  Make an extra effort and program different thank you receipts.  
If programming 12 different receipts is too much, at least program six and then alternate them.
You're certainly not making these donors feel special if you keep sending the same, standard receipt month after month. Plus they will barely register with your donors. They may not feel that they've been thanked at all.  A receipt is certainly not a thank you.
While I like PayPal and Network for Good a lot for their ease of use for monthly donors, their email receipts are quite hum-drum. In the "off the shelf" versions of these services, you may not even be able to change the messages.
Here's an example of an email receipt from PayPal, just to make my point:
PayPal

You sent an automatic payment

Hello e waasdorp,

You sent an automatice payment to Marstons Mills Public Library, Inc. Here are the details:

Amount: $5.00

To: Marston Mills Public Library, Inc

For:

Customer service URL: http://www.xxxxx

Customer service email: smartn@xxxxxx.org

Customer service phone: xxx-xxx-xxxx

Automatic payment details:
Think carefully before you trust your monthly giving program to a 3rd party processor. When possible, purchase the premium plans so that you control your messages. If you cannot do that, follow these suggestions.
How to Make a Better Impression
There is a simple solution that does not take that much time or extra resources, and it WILL make a world of difference to the monthly donor you're trying to keep and upgrade to higher contribution levels.
You should have already coded these monthly donors in your email list or CRM software as a particular segment. If not, start doing this as soon as possible! You'll benefit from it in the short and long run.
Here is a simple recommendation to address the issue of monthly donor receipts that does not take too much time:
1. Create a unique variation of your email newsletter to include a thank you to your monthly donor.
I trust that you're sending out an email newsletter or message to your donors at least once a month. If so, I recommend creating a slight variation of the email introduction that says:
Thank you for being such a great member of the Circle of Friends (fill in name of your monthly giving group). You make a difference to the many people (animals) etc. we serve (fill in specifics)… Thanks to you we're able to have the funds to…    (fill in specifics).
Then proceed with the rest of your newsletter. Do not repeat the amount and date of their gift in this email but focus on the fact that they are such a loyal donor to your organization, and they're truly SPECIAL! You should be able to do this in the first few lines of your email newsletter.
This way, it gives your monthly donor that 'special feeling.'  It's not a lot of extra work on your part, and it's also less important at what time of the month you send that email. 
You just told your monthly donor how special he is to your organization and the difference his gifts make. And, if you get feedback and testimonials from your monthly donors, don't be afraid to use them. People love hearing from other donors confirming that they made the right decision to join your monthly giving program.
2. Send at least four special email thank yous.
If you are not yet sending a regular email newsletter, I highly recommend you do at least four different thank you emails to your monthly donors during the year. Remember that the monthly receipt will hardly be noticed.
But your monthly donors will likely pay attention to these special thank yous. They don't have to be very long or elaborate, just personal and appreciative. Many organizations tend to change up their snail mail thank you letters once a quarter, depending on their annual fund schedule, so just make a simple email variation, and work in a reference to being a monthly donor.
I'm all for keeping things straightforward and manageable, so try to use what you already have in place and make small tweaks to accommodate your monthly donors. It is so important to treat this particular group super special. You'll continue to benefit from these donors, month after month, for many years to come.
Erica Waasdorp is my go-to resource whenever I have a question about monthly giving. She is the author of Monthly Giving: The Sleeping Giant.