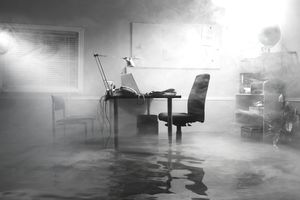 When disaster strikes your business, and you wonder where you will get the money to rebuild, consider an SBA disaster loan as one of your resources. 
How Does an SBA Disaster Loan Work? 
In general, SBA disaster recovery loans are available for businesses and individuals who have had losses from a U.S. disaster. The SBA provides low-interest, long-term loans "to repair or replace uninsured or underinsured disaster-damaged property." Interest rates are capped at 4 percent, and the term can be up to 30 years.
SBA disaster loans come in two forms: 
Physical Disaster Loans to replace or repair physical damage. Physical property includes real property (land and buildings), machinery and equipment, fixtures, inventory, and leasehold improvements.  
Loans for Economic Recovery, "to help meet financial obligations and operating expenses that could have been met had the disaster not occurred." The economic recovery loans usually take the form of working capital loans for operating expenses help the business survive during the recovery process. Even if your property hasn't been damaged, you may be able to get an economic recovery loan to help you restart your business. 
For small businesses, the maximum combined limit for both types of loans is $2 million.
What Do I Need to Do Before Applying? 
First, you need to determine if you are in a declared disaster area. The federal government, the SBA, and the Secretary of Agriculture can declare an area as a designated disaster area.
Check this list of current designated disaster areas to see if your area is included. If it is not in one of these declared disaster areas, you can't get a disaster loan. 
Second, you will need to submit a claim to your insurance company and get started on the process of determining what they will pay you.
The SBA will only pay for damage that is not covered by insurance, but you can begin the loan process before you know the amount repaid by insurance. According to FEMA (the Federal Emergency Management Agency), the SBA will "consider making a loan for the total loss up to its loan limits, provided the borrower agrees to use insurance proceeds to reduce or repay their SBA loan."
How Do I Submit a Disaster Loan Application? 
You can submit an application in one of three ways:
What Information Do I Need for My Application? 
Forms needed for your business loan application include: 
A business loan application (SBA Form 5)
An IRS Form 4506-T for each applicant (the business) and each of its owners. The requirements for who must submit this form differ depending on the type of business and the number of owners. 
Additional documents needed for your company and the applicants: 
A complete copy of the most recent federal income tax returns for the business, including all schedules. 
A personal financial statement (SBA Form 413) for each owner of the business. 
You may also be required to provide tax returns for all owners of the business. 
A schedule of liabilities (you might use SBA Form 2202) with current status and balance. 
A current year-to-date profit and loss statement for the business. 
Current sales figures on SBA Form 1368.
You may be required to have collateral (some money or other assets) to be accepted for this loan. The SBA says it "will not decline a loan for lack of collateral, but requires you to pledge what is available." 
Here's a list of the links to SBA forms mentioned above. 
What Is the Process for Disaster Loan Approval? 
When you apply for an SBA disaster loan:
The SBA first reviews your credit to make sure you are a good candidate for a loan
Then they verify the physical damage and economic damage to your business and make an estimate 
The loan process then takes over, including gathering information, asking for documents, and requesting insurance coverage information. This is the point where you may be asked for collateral
At the end of the process, the loan documents are prepared and signed 
How Can I Increase My Chances of Getting a Disaster Recovery Loan? 
Some tips for speeding up the loan process and improving your chance of getting an SBA disaster loan: 
Check your credit rating to make sure it is going to be acceptable. If you have poor credit you may need to repair your credit before applying. If you have a business credit rating, that's great. If not, you will need to use your personal credit rating. 
Prepare information about the assets you might need for collateral purposes. This information might include information on a business asset like a building or equipment, with its current value. 
Before you submit anything to the SBA, print out all the forms that need to be submitted and go through them carefully answering all the questions. Don't make the loan officer have to come back and ask you more questions or request more information. 
Make sure you have all of your documents, including required tax returns and company documents and that they are complete and accurate.
What If My Loan Application Is Denied? 
Your application for an SBA disaster loan might be denied if: 
Your credit history is not acceptable
You don't show an ability to repay the loan 
If you apply for an SBA disaster loan and it is denied, you can apply for a reconsideration. Your application must be submitted within six months after the denial to the SBA's Disaster Assistance Processing and Disbursement Center (DAPDC). If your application is denied again, there is an additional process available. 
Where Else Can I Find Disaster Assistance? 
You can contact FEMA, which examines the damage to your property and provides other forms of assistance for homeowners, renters, and businesses affected by disasters. FEMA offers grants which don't have to be repaid. Go to disasterassistance.gov to begin the process of applying for assistance. 
How a Disaster Loan Fits Into Your Recovery Plan and Insurance Coverage
SBA disaster loans don't replace a solid disaster recovery plan that you prepare for your business before a disaster happens. These loans also don't replace your risk management/insurance coverage. Your business insurance coverage may include flood insurance and business interruption insurance. 
A recovery plan that's complete and adequate insurance are the first lines of defense against disasters for your business. If the damage is greater than these, an SBA disaster assistance loan might help you more quickly recover and get on with your business. 
For More Information
You can visit the SBA's disaster assistance site, call the SBA at 1-800-659-2955 or (TTY) (800) 877-8339, or you can email your questions to disastercustomerservice@sba.gov.