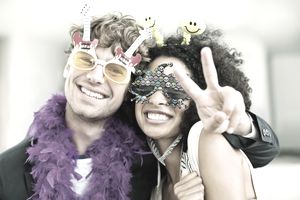 Your event client wants to throw a themed party but they're tired of the same old ideas since most of the well-known themes have already been done.
From the truly imaginative, to the weirdly eccentric party themes, the possibilities are almost endless. All it takes is a bit of imagination, inspiration and the desire to have fun. If you're ready to shake up your client's next party, try one of these 7 party themes. (Fair warning: Some Party Themes Are Not Suitable For Everyone.)
A Recession Dressing Party
The idea of this theme is that everyone dresses up wearing clothes that cost no more than $10 to buy. You can choose your own figure and make it as challenging as you want. To make sure no one makes a trip to Dolce and Gabbana and tries to pass their purchases off as "in budget", make it a rule that all guests have to attach the receipt to each item of clothing they wear.
I Shouldn't Be Here Party 
This is a good one to get your guests' thinking outside the box and you're sure to come up with some interesting ideas. You party-goers must come dressed in anything other than party wear. Think scuba gear, think surgeon complete with patient mid-operation…you get the idea. This is a wonderful theme to get your creative juices working overtime when planning a party.
Potato Party
How many ways can you peel a potato? Think potato snacks, are you boiled or mashed? You might even be Irish in keeping with the overall potato theme.
Surprise the Pizza Guy
Is your client a pizza lover? Get the place done up with banners, streamers and all the party paraphernalia you can lay your hands on. Order in pizza and when the pizza guy arrives all yell "surprise!" and throw him a party. Remember to repeat it with as many pizza delivery companies as you can find. This theme has the added benefit of the food being supplied by your many unwary pizza delivery guys.
Offensive Party
WARNING! This is not for the faint of heart so it's s a good idea to make sure the guests are prepared because the idea is to be as offensive and politically UN-CORRECT as you possibly can. Enjoy the fun as your guests try to out-do each other and be more outlandish and offensive than the competition. Be prepared for some truly despicable results.
Grafitti Party
Let your guests' creative juices flow with this artistic party theme. All your party people arrive wearing a plain white shirt that acts as a blank canvas for your budding Picassos. You supply a selection of colored fabric markers and as the evening develops and the creative juices start to flow, your guests "color each other in" creating a crazy array of human artworks.
Letter Party
With 26 options, ask your client to choose one letter of the alphabet that will be the theme for the night. Guests will have to get creative with this party theme because they'll be asked to dress as something starting with that letter. For example A - apple, airplane, alligator. 
A launch party is a perfect way to highlight your client's new product or introduce your event planning business (or products or event services) to clients and your supporters, so how do you make it memorable?
When you plan a launch party it's more than hiring a venue and working with a caterer to make sure the right food is served. When in the planning phase, it's essential to decide what you must have at your party, what is nice to have and what you can do without.