Overview of Walmart's History and Mission Statement
Walmart Wants to Save You Money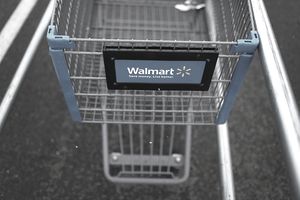 Sam Walton opened Walton's 5&10 in Bentonville, Arkansas on May 9, 1950. The first store to officially bear the Walmart name opened in Rogers, Arkansas in 1962. It was financed 95 percent by Sam Walton himself. He was 44 years old at the time. 
Walmart's History 
Walton was known as "Mr. Sam" throughout his tenure at the helm of his empire. His mission statement for the first Walmart in Rogers was "The lowest prices anytime, anywhere." The concept worked because Walton and his family were the proud owners of 24 stores within just the next five years, achieving $12.7 million in sales.
Two years later, the company incorporated as "Wal-Mart Stores, Inc." 
But Walton wasn't done yet. He wanted his stores in the national spotlight. Walmart went public in 1970 with shares offered at $16.50. By 1972, Wal-Mart Stores, Inc. had 51 stores and sales of $78 million. This increased to 276 stores and $1 billion in annual sales by the 1980s. Walmart opened the first Sam's Club in Oklahoma in 1983, and the first Walmart Supercenter opened in Missouri five years later. It was the #1 retailer in the country by 1990. 
Sam Walton died in 1992 at the age of 74. Walmart's headquarters are still located in Bentonville, Arkansas where he started it all.
The Mission Statement and Purpose of Wal-Mart (WMT)
Wal-Mart's currently advertised mission statement and its advertising slogan are the same: "We save people money so they can live better." 
In addition to this mission statement, the company looks to its founder for the company's "purpose." When he received the Presidential Medal of Freedom from President George H.W.
Bush in 1992 shortly before his death, Sam Walton said upon accepting the award:
"If we work together, we'll lower the cost of living for everyone…we'll give the world an opportunity to see what it's like to save and have a better life."
Policies, Principles, and Rules
Walmart has developed some unique policies, principles, rules, processes and procedures over the years which form the store's corporate culture:
Open Door Policy: Managers' doors are open to employees at all levels
Sundown Rule: Answering employee, customer and supplier questions on the same day the questions are received
Grass Roots Process: Capturing suggestions and ideas from the sales floor and front lines
3 Basic Beliefs and Values: Respect for the individual, service to our customers, and striving for excellence
The 10-Foot Rule: Making eye contact, greeting and offering help to customers who come within 10 feet
Servant Leadership: Leaders are in service to their team
The Wal-Mart Cheer: An actual structured chant that was created by founder Sam Walton to lift morale every morning. He got the idea after visiting a Korean manufacturing facility in 1975. 
Walmart pledged to sink $2.7 million into its workforce over a two-year period in 2015. The initiative included training programs for employees and a minimum wage hike to $9 an hour.