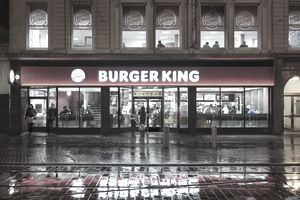 Keith Kramer and his wife's uncle Matthew Burns lived in Jacksonville, Florida in 1953, and were looking for a restaurant idea. They built a stove called the Insta-Broiler, and they called their stores "Insta-Burger King." The idea was picked up by a pair of Cornell University classmates, James McLamore and David Edgerton. McLamore had visited the hamburger stand that was operated by the McDonald brothers that launched the McDonald's empire, and he and Edgerton bought an Insta-Burger King franchise in Miami in 1954.
Burger King Origins
The growth of the Miami metropolitan area made it an excellent location for starting a new chain, but an adjustment had to be made to the Insta-Broiler idea. McLamore and Edgerton came up with a gas grill that they called a "flame broiler," and it eliminated the problems of the Insta-broiler. In 1959, their operation had grown, and the Kramer-Burns operation had run into such trouble, that McLamore and Edgerton could buy Kramer and Burns out. By 1961, the rechristened Burger King and its signature burger the Whopper had begun to spread across the United States.
In 1967, the Pillsbury Company bought Burger King Corporation for $18 million, and with the baking company's capital behind it, by the late 1970s, Burger King was able to grow to become America's second-largest burger chain, behind McDonald's. It was the era of several one vs. two battles in American business, from Coke vs. Pepsi in soda and Hertz vs. Avis in car rentals to ABC's successful battle to overcome CBS and NBC to become the most popular television network.
Donald Smith Intervention
In 1978, Burger King poached executive Donald N. Smith from McDonald's. He restructured the company's franchise agreements so that owners could not own franchises in other chains, thus encouraging loyalty; and so that they could not operate stores more than an hour's drive from their homes, thus cutting down on absentee ownership.
Many unprofitable franchise owners dropped out, trimming the company's fat. It was at this time that Burger King began to reach out to children, by countering McDonald's commercials featuring live-action versions of its characters Ronald McDonald and his friends with similarly-themed characters: A Burger King who was also a magician, the Wizard of Fries and Sir Shake-a-Lot.
Smith took on not only his former employer and Long John Silver's by introducing Burger King's first fish sandwiches, but also Kentucky Fried Chicken and Wendy's by introducing their first chicken sandwiches. Company sales were up 15 percent by 1980, at which point Smith was poached once again, this time by PepsiCo. After he left, sales began to decline.
Norman Brinker's Influence
Norman Brinker, who had been brought into Pillsbury when they bought his chain Steak and Ale, was charged with turning the company around. He started what became known as the Burger Wars, running commercials that said Burger King's burgers were bigger and better than McDonald's; these may be the first political-style "attack ads" in the food industry. As with Smith's efforts, Brinker's worked for a brief time before he left the company, and he went on to build the Chili's restaurant chain.
Without Smith or Brinker, Burger King declined again, and this was one of the reasons why Pillsbury was unable to fight off a takeover bid by British company Grand Metropolitan PLC. Already having a worldwide focus, Grand Met changed Burger King's distribution methods, switching their soft-drink contract from Pepsi to Coca-Cola, partnering with the Walt Disney Company to tie in with Disney films, and expanding BK around the globe, partially by buying the company that ran British-based burger chain Wimpy.
The company's headquarters building in Miami was destroyed by Hurricane Andrew in 1992, but a proactive response by Grand Met led to a quick rebound. In 1997, Grand Met merged with brewing giant Guinness to form Diageo plc, which seemed to ignore Burger King in comparison to its alcoholic properties like Guinness, Johnnie Walker, and Moet & Chandon.
BK's IPO
BK declined again until TPG Capital, with assistance from Goldman Sachs and Bain Capital, bought Burger King for $1.5 billion. An IPO was launched in 2006, generating $425 million in revenue. TPG introduced the Whopper Bar concept, allowing customers in some stores to better see the burgers being made, a concept similar to the Benihana steakhouse chain but more familiar to Starbucks customers, with the workers being named "Whopperistas." The company grew to be worth $3.2 billion, the purchase price that 3G Capital paid TPG for it in 2010.
While McDonald's has been hailed as a business model both domestic and international, Burger King's ups and downs make it, arguably, a more interesting company to a neutral observer.