Halloween - A Really Sweet Business Opportunity
A Halloween Business Can Be a Great Opportunity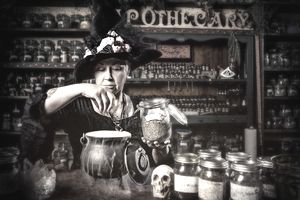 If the end of October seems stranger and spookier than ever, there's a reason for it - Halloween is growing as these Halloween statistics show. If you're interested in starting a business or investing in one, you should look past the trick or treaters for the sweet business opportunities Halloween provides.
The Halloween Market is Growing
The size of the market is one reason that Halloween is a solid business opportunity.
 More than 157 million Americans celebrated Halloween in 2015, a number that increases every year. 
Halloween has become a true retail bonanza. First, because Halloween is becoming an increasingly universal celebration.
The National Retail Federation says consumers spent $6.9 billion on Halloween in 2015, while Canadians have become so wild about Halloween that Canadians now spend more per capita on costumes, candy and décor than those in the U.S., with holiday-related spending that is second only to Christmas. Halloween spending came in at about $1 billion in 2015 according to the Retail Council of Canada.
Second, because individual consumers are spending increasing amounts of money on celebrating Halloween. The average American consumer celebrating planned to spend $74 on decorations, candy, costumes and more in 2015, up from the $66.28 spent on costumes, candy and decorations in 2010, says the National Retail Federation.
Retailer Value Village's 2011 annual Halloween shopping survey found the average Canadian planned to spend $300 on the big day - and pet owners planned to spend on average an extra $59 on their furry friends. Ken Alterman, president and chief executive of Value Village, says that Halloween sales have increased more than 35 percent over the last five years.
It's a similar story over at Canadian Tire, where Halloween now represents the third most important seasonal category behind Christmas and summer backyard living.
Statistically, then, business opportunities related to Halloween should have "legs", with a market that continues to grow over time. Growing segments within the Halloween market make the possible profits for a Halloween business even sweeter.
Halloween Isn't Just for Kids Anymore
Children's trick or treating is still a Halloween mainstay, but it's adults who are spending the money on celebrating, embracing Halloween as a chance to let their inner child get out and party. Large parties with participants wearing elaborate costumes are becoming increasingly popular - excellent news for people looking for niche business opportunities.
Interestingly, it's not just young adults who are getting in on the spooky fun. The National Retail Federation found that in 2013, 70 percent of 18-24 year olds planned to celebrate Halloween, but 65 percent of consumers aged 25-34 and 60 percent of 35-44 year-olds were also planning to celebrate.
And what are they doing to celebrate? According to the National Retail Federation, in 2015:
65% to 70% of 18 to 40 year old adults wore a costume,
20% of people dressed up their pets,

52% of people threw or attended a party,
70% handed out candy,
47% carved a pumpkin,
36% visited a haunted house,
27.5% took their children trick-or-treating, and
44.8% of consumers celebrating decorated their home or yard.
Possible Halloween Business Opportunities
So what kind of Halloween businesses would be the best business opportunities?
One way to answer this question is to examine the most popular Halloween products. I bet you've already guessed the two things that most people buy - candy and pumpkins. The other most purchased items are Halloween decorations and costumes. (Halloween is the second biggest decorating holiday of the year, surpassed only by Christmas.)
As business opportunities, you should cross the first two items off your list. There are already many (large-scale) businesses producing Halloween candy and pumpkins and your chances of competing successfully would be practically nil.
However, the other two on the list, Halloween costumes and decorations, provide scope to develop business opportunities, particularly opportunities that cater to a niche market.
You might, for instance, start a business:
providing Halloween music for parties,
creating "authentic" period costumes for adults,
providing Halloween decorating services for residential or business premises,
presenting in-house parties for children (as a substitute for trick-or-treating).
Besides Halloween parties, visiting haunted houses is another Halloween event growing in popularity. Setting up a haunted house of your own could be an expensive proposition (and a poor idea anyhow if there is another nearby), but providing tours of "haunted houses" and other spooky sites in your area could be a profitable business idea. Check with your local historical society or old-timers to research your area's paranormal history; the ghost stories you discover may surprise you - and be quite profitable if you can present them in an alluring, entertaining way.
Bag Profits with a Halloween Business
The purpose of this article is not to present every possible Halloween business opportunity there is but to make you aware of the potential of the Halloween market and get you thinking about possible ideas that you could turn into a profitable small business.
So don't just look at Halloween as time to buy candy or a chance to party. Halloween presents many business opportunities that a savvy entrepreneur won't want to overlook.