8 Grant Writing Myths Nonprofits Should Not Believe
Even Small Nonprofits Can Compete for Grants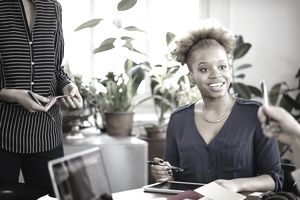 Unfortunately, many smaller nonprofits think that it is impossible and pass on a valuable source of funding.
I asked Pamela Grow, a fundraising expert, to debunk the myths surrounding grant writing and provide her advice on setting up a first-time grants program.
Pamela says that the following eight myths often hold nonprofits back from getting their share of the grant giving pie.
Myth 1:  Writing a grant is an instant solution to our money problems.
Grant seeking is not a one-off.  Successful charities make a commitment to creating a grants program by researching grants all the time and making applications for grants frequently.

Pamela points out that rejection of grants is common. In fact, first-time grants almost never get funded. Unfortunately,  many smaller nonprofits give up after the first no.

What if we searched for a job in that way? We would give up after the first rejection. But, instead, we keep sending out resumes, working our contacts, upgrading our skills, and hanging in there until we get a break.
It's the same with grant writing. 
Myth 2:  Grants aren't like other kinds of fundraising.
Don't fall into this trap. Grantwriting is just like other types of fundraising. It is all about relationships. Building a relationship with funders, such as foundations, is quite similar to what we do to relate to individual donors.
A relationship with a funder starts when you do your research. Don't hesitate to call a foundation to test the waters...would they welcome your application? Strike up a conversation with a program officer or the founder of a small foundation.

If your grant is rejected, find out why, and if there is anything you can do better or different.Always ask if there is another funding source that they can recommend.
Myth 3: Foundations cut back on funding in tough times, so what's the point?
It is true that funding goes up and down, depending on the economy. But don't be discouraged by tough times. You have to start somewhere. Investing in a grants program is like investing in the stock market. Just keep it up through thick or thin. Eventually, it pays off
Today, more foundations do consider providing operational support for their grantees. Plus most grants do include some funds for overhead.  
Make sure that your budgets are realistic so that you won't be running a program without adequate funding just to keep the lights on and to pay for enough personnel.
It is true that a foundation is unlikely to pony up just to keep your nonprofit open, but if you ask for support for a strong program and budget appropriately, grants can help your bottom line immensely. 
It is up to each nonprofit to have a basket of income sources to stay healthy. Doing so will make your charity much more appealing to a foundation.
Myth 5: We don't know anyone at any foundations.
You might. As you do your research for funders, take note of foundation trustees and staff and forward those names to your board to see if there are any connections.
One may well turn up. If so, see if your board member will make a call to find out more. Even if you start out with no contacts, you can still get funding and, as you gain experience, your contact universe will grow.
And don't overlook networking with foundation staff. Seek them out at conferences, call a program officer at a foundation and discuss your project and whether it is a good fit. Follow the foundation on social media. Sending in a grant application cold rarely works. So find ways to make a connection before you ever ask for money
If your nonprofit is small or new or serves a particular area, look for small family foundations. Every state, city, and town has a few of these. They are much more likely to fund a small, local charity than large national foundations. Plus, it's easier to find connections with those foundations right on your board or among your other donors. 
You can also check out your local community foundation. It may give out grants to charities within its area, plus it may have a trove of resources you can tap. Community foundations often have classes on grant writing and other fundraising strategies. Use the community foundation finder at the Council on Foundations.
Myth 6:  We don't know how to search for funders, and the databases are expensive.
There are lots of resources online these days. The most helpful resource is the Foundation Center. Your public library may have the Foundation Center's database that you can use for free. 
Spend a day or two trying it out. The Foundation Center also offers free online tutorials and webinars on how to use its database. Check out this six-step system to find funders.
Myth 7:  It's just too complicated to write a grant proposal.
It isn't. The biggest problem foundations see when they read grant applications is that grant writers don't follow the foundation's guidelines. If you just do that, your application will likely stand out. 
You can also read sample grant proposals. You can find many examples at the Foundation Center's website, where you can also sign up for webinars and other online resources to learn more about grant writing.

Grant writing is also about telling stories. After all, humans will be reading your proposal and they, like your other donors, can be moved by those stories. 
Sure, you'll be using a lot of statistics, but back those numbers up with stories about the people or animals that you help.
Myth 8:  We don't have anyone on staff to write proposals and professional grant writers are too expensive.
First, look internally for someone who could learn to write grant proposals. It might be someone you hadn't thought of...even a volunteer. But, if you do feel that you need a professional, don't hire one because you think it is going to be an instant solution. If someone promises that, beware.
If your organization has never applied for foundation funding, consider contracting with a grant writer who will educate your staff so that you can eventually move your grant writing in-house.

Professional grant writers have a range of fees. Some charge by the hour while others charge a flat fee for an entire project. You can also hire a grant writer on a retainer for a specified period, such as monthly or yearly. 
Don't let your preconceptions keep you from tapping a funding source that could be a vital part of your fundraising mix. Grant writing takes some work, but it gets easier as your organization gains experience and sets up systems. The trick is to start today.