6 Ways to Generate the Best MLM Leads
Effective Multi Level Marketing Lead Generation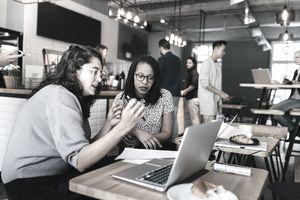 Leads are essential for any successful business, but particularly so in network marketing, in which MLMers need a steady flow of prospects to present their products or business opportunity to. Unfortunately, many in multi-level marketing (MLM) don't treat their business as a business. The truth is, a network marketing direct sales business is just like any other business, whether it's a blog, eBay, a franchise, or freelancing.
All businesses require marketing and lead generation in order to make sales. As a result, network marketers should use many of the same marketing strategies and funnel systems used by other businesses that need leads to make sales.
First Things First: Before You Market for Leads
Most MLM companies recommend starting with a list of 100 people you know. Called your warm market, this is not a bad place to start when looking for customers and business builders. The problem is, many MLMers work this list to the point of annoying their friends and family. You're better off spending your time finding people who are interested in what you've got rather than trying to convince your commuting buddy to sign up when he doesn't want to.
So how do you get leads? The best leads will always be the ones you generate yourself. These people have seen your pitch and raised their hand to learn more. Bought leads respond to generic ads, and as a result, may not be interested in your products or business specifically.
Further, the buying leads are expensive. 
The good news is that you can produce your own quality MLM leads. The Internet has made it easier than ever to find people who want your product or service, or to build a home-based business. But before you start posting your business in forums and social media, it helps to start by answering a few questions.
Who is the most likely buyer of your product, service or business plan? What do you sell and who needs it? Do you sell candles? Who buys candles? Do you sell wellness products? Who wants wellness products? All marketing for any business starts by identifying your target market.
Where can your target market be found? In the past, MLMers were told to talk to everyone who stood within 3-feet of them or to place classified ads. While this isn't bad, it's less effective than going to the source. The people standing near you or reading the paper may not want or need what you've got. If you sell health and wellness products, talking to people in a gym or writing a guest post on a fitness blog are better options. If you sell jewelry, visiting office buildings the first weeks of February to help men buy gifts for their Valentine's is another option. 
How can you entice your market to want to know more? An important thing to remember when talking to people is that it's not about you or your product. It's about them and how you or your product can help them get what they want. You can do this by learning about your leads' feelings, goals and wants, and then provide a solution. The fact is most people don't care about your company, pay plan, etc. They care about finding a solution to their problem.
Six Effective Ways to Generate MLM Leads
Now that you know who, where and how to find your market, here are some great ways to locate and entice these people to find you.
Generate MLM leads with a personal website. Many companies offer websites. Others allow you to make your own, but some don't, so you'll need to check your MLM company's policies about websites. If you can, make your own because you want to differentiate yourself from your competitors. If you're not allowed to make a website directly about your business, make one covering a topic related to your business. For example, if you sell health and wellness products, but can't have a self-made business site, start a health and wellness blog. Your website should include information about you and your company, but again in the slant that shows how you can help others get what they need. 
Getting the leads is just the first step in the process. Next, you need to qualify them to determine if they're a good fit, then make your pitch, and finally, follow up. Many network marketers don't like the sales process, but it doesn't have to be hard or scary, especially if you start with leads who've come to you specifically to know about what you offer.
Once you get the hang of generating leads and working them, there's nothing to stop you from becoming a network marketing success.