Inspiring Quotes About Overcoming Adversity
Advice About Adversity From Business Leaders and Successful People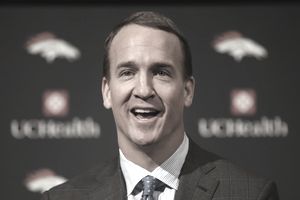 The 21st century has already been filled with historic setbacks and equally historic comebacks for businesses, governments, and individuals from all over the world. Luckily, overcoming adversity is an inherent part of the American culture.
The ability to effectively overcome adversity has become a necessary survival skill for those working in the U.S. retail industry since the great recession of 2008 and 2009.
 Chapter 11 bankruptcies, store closings, quickly shifting consumer shopping habits, fast-moving innovation, and relentless multi-channel competition are the daily realities of retailing for the largest U.S. retail chains, as well as the mom-and-pop shop owner.

The best ideas and advice about overcoming these challenges come from people who have managed to survive setbacks and who have successfully staged comebacks. Find out how business founders, political leaders, sports heroes, and successful people in all professions view adversity with these funny and inspirational quotes.  
Funny and Inspirational Quotes About Overcoming Adversity
"Life is a series of experiences, each one of which makes us bigger, even though sometimes it is hard to realize this. For the world was built to develop character, and we must learn that the setbacks and grieves which we endure help us in our marching onward." Henry Ford, Founder of Ford Motor Co.
"In times like these, it is good to remember that there have always been times like these." Paul Harvey, American radio personality
"You hear about how many fourth quarter comebacks a guy has and I think it means a guy screwed up in the first three quarters." Peyton Manning, record-breaking NFL quarterback
"By making a comeback, I'm changing the attitude of people toward me. If I'd known that people would react so enthusiastically, I'd have done it years ago." Mark Spitz, Olympic Gold Medal swimmer who attempted an Olympic comeback at age 42
"Comeback is a good word, man." Mickey Rourke, American actor who made a Golden Globe-winning comeback after leaving acting to be a professional boxer
"Don't say Aretha is making a comeback because I've never been away!" Aretha Franklin, American singer and songwriter for more than 50 years
"Making a comeback is one of the most difficult things to do with dignity." Greg Lake, musician with Emerson Lake & Palmer which disbanded in 1979, then made a comeback album 12 years later
"A setback is a setup for a comeback" T.D. Jakes, Bishop of The Potter's House Megachurch
"I contend that not only can you laugh at adversity, but it is essential to do so if you are to deal with setbacks without defeat." Allen Klein, talent agent for The Beatles and The Rolling Stones
" Victory is always possible for the person who refuses to stop fighting." Napoleon Hill, bestselling personal development author
"There's nothing as exciting as a comeback—seeing someone with dreams, them fail, and then getting a second chance." Rachel Griffiths, Australian actress
"The real glory is being knocked to your knees and then coming back. That's real glory. That's the essence of it." Vince Lombardi Jr., winning coach of Super Bowls I and II
"The way to an American economic comeback, the way to help those out of work today find a paycheck, is to unleash the forces of job creation in America. The source of new jobs isn't going to be the bureaucracies of Washington, but rather the creativity, ingenuity, and hard work of the American people." Rob Portman, U.S. Republican Senator from Ohio
"I think whether you're having setbacks or not, the role of a leader is to always display a winning attitude." Colin Powell, Retired U.S. Army Four-Star General
"Leaders must pick causes they won't abandon easily, remain committed despite setbacks, and communicate their big ideas over and over again in every encounter." Rosabeth Moss Kanter, Harvard Business School professor
"Enduring setbacks while maintaining the ability to show others the way to go forward is a true test of leadership." Nitin Nohria, Dean of Harvard Business School
"These past years, as we have been recovering and given our city a rebirth, we have been encouraged by our faith, knowledge, and steadfast belief that we will pull through. There will be challenges and setbacks, as there have already been, but we will continue, and we the citizens of New Orleans will prevail in bringing our city back." Cedric Richmond, Louisiana Congressman
"When the winds of adversity blow strong, redirect their force into the service of your highest intention." Jonathan Lockwood Huie, American author of inspirational books
"Cultivate optimism by committing yourself to a cause, a plan, or a value system. You'll feel that you are growing in a meaningful direction, which will help you rise above day-to-day setbacks." Dr. Robert Conroy, American author
"Most of the important things in the world have been accomplished by people who have kept on trying when there seemed to be no hope at all." Dale Carnegie, bestselling Self-Improvement author
"Failure? I never encountered it. All I ever met were temporary setbacks." Dottie Walters, American author and motivational speaker
"In the middle of a difficulty lies opportunity." Albert Einstein
"I'm proud of the way I've dealt with setbacks. It's hard when you feel down and you think, 'Why is the world doing this to me?' But you have to pick yourself up again. That's what makes you a better athlete." Jessica Ennis, Olympic heptathlon gold medalist
"Celebrate endings—for they precede new beginnings." Jonathan Lockwood Huie, author