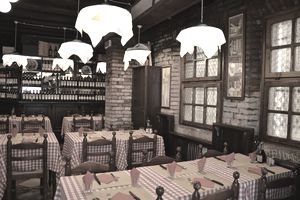 The term "Front of the House" refers to any location within a restaurant that allows customers. This includes the dining room, bar, even the restrooms. Management of the front of the house includes customer service, hiring, and training staff, designing the dining room and bar, and planning restaurant promotions. Understanding how the front of the house operates is important to overall success of any restaurant.
Hiring for the Front of the House
There are many different jobs within any restaurant. But no matter what job you do, from the owner to the dishwasher, they are all important to making a restaurant run smoothly. Though many think that working in a restaurant is easy, but waiting tables requires a special skill set that not everyone is equipped with. Restaurant personnel who work the dining room and bar need be friendly, organized, and quick thinking. Experience is a plus, but the right person can learn quickly with on-the-job-training.
Stocking the Front of the House
The front of the house is the only area that customers see and it should reflect the theme or concept of your restaurant. It should be designed efficiently, balancing ambiance with seating capacity. Certain pieces of front of the house equipment are also important in running an efficient restaurant.
A well-stocked wait station will have everything that servers and hosts need to provide excellent service. While the seating you choose, with help, maximizes the layout of the dining room, along with the dining room, restrooms and waiting areas are other areas to think about when planning a restaurant dining room. There are also technical issues to consider when planning your restaurant, such as installing a POS (point of sale) system to track sales.​
Front of the House Customer Service
Without great customer service, a restaurant doesn't have a hope of succeeding. Train your front of the house staff to excel at customer service. When the inevitable complaint happens, be sure that your staff knows how to handle it. Also knowing how to handle problems that arise, such as a customer who's had too much to drink, will keep everyone safe and happy.
Actions speak louder than words, and that is certainly true of customer appreciation. There are countless ways you can show your customers how much you appreciate their business. And it doesn't have to cost you a lot of money (or any money in some cases). For example, personal attention, especially by the owner or manager can go a long way in making customers feel special.
Front of the House Promotions
There are many types of promotions and marketing you can do to bring in customers and keep your front of the house busy all year long. Restaurant promotions, whether daily, weekly, or monthly are great ways to show customer appreciation and bring in some extra business at the same time.
Promotions can range from a nightly happy hour to an annual customer appreciation day, with drink and dinner specials. Check out these popular restaurant promotions. From buying the right equipment to hiring the right people, a well-organized front of the house will help lay the foundation for a successful restaurant.