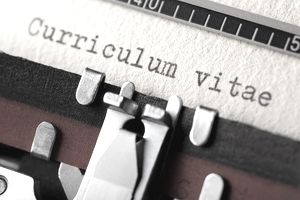 The freelance writer resume probably gets more use than the documents of many other careers, as freelance writers are often--almost always--looking for new projects. Despite this, I recently watched a LinkedIn conversation with interest where the writers were arguing about the need (or not) for a writing resume. Other bloggers who wrote about this exchange said that they believed one fallacy in the whole exchange was that the writers didn't have the same thing in mind when they said "resume."
My opinion? Well, I'm consistently asked for my writing resume or CV. In fact, two of my past clients asked me for an updated one just this week. One was a major publisher. I also got a $12,000 job through a resume I submitted to a blind job ad posted at a niche association page. So, I'm confused as to how these writers don't ever need a freelance writer resume.
If this is just semantics, then I note this: when I say freelance writer resume, I don't necessarily mean a list of where you worked, or who you worked for. Now, that might be a part of your resume, especially if, like me, you worked in editorial or writing for full time employers. But what a writer's resume seems to be is a summary of their "best" clips, longest term clients, specific skills and niche areas.
The following sample resume (or CV, or clip list) is somewhat exhaustive. What this writer does it break it down into several smaller resumes, such as "writing resume," "editing resume," and "niche area" resume.
Please note italics before and inside sections are my words. Enjoy.
Sample Freelance Writer Resume
The first part of the resume is often the "objective." This writer has endeavored to make that less about what they want, and more about what they offer. Note that the writer talks about their most impressive items (book and radio show) up front and right off. In fact, most of this first paragraph is indeed a sort of name dropping in order to capture the reader's attention. Notice that less important items, such as education, are later in the paragraph. This section must be kept short. It will only be skimmed.
Summary:
Award-winning writer and managing editor featured in Example Book and on the Example Radio Network. Offering over X years of practice, including X years of writing for a large online network. Additional clients include the Big Name, Big Name and Big Name. Bachelor's awarded in English and MA in process. Niche specializations in Latino issues, education, non-profit and health/fitness.
Since this is an exhaustive resume (not a niche or targeted version as explained above), the writer has chosen to lead with education. This could possible be moved to the last part. The writer is taking a gamble that this education is "worth" the space front and center. Also note that from here on out, the writer chooses to use scannable bulleted lists.
Education
X State University: MA in X
X State University: BA in X
Additional education, including seminars and conferences
Don't forget internships
The writer then moves on to writing clips, which are sorted by type of writing. In magazines, the publications that he/she regularly contributed to are listed first, followed by the one-off articles that he/she published.
Magazines
Most Recognizable Title Magazine, regular contributor (dates)
Repeat, next most recognizable
Etc
"Example Article" Published in the X issue of Magazine Title
"Example Article" Published in the X issue of Magazine Title
This writer's next listing is copywriting. Since most of the copywriting is done for ongoing clients, he/she lists by client name. But other copywriters might choose to list by title of the project, such as "Sales Brochure"
Copywriting
First Regular Client Name, contracted writer for over X years
Sample Project, Client Name, distributed via direct mail to over X recipeints
Sample Project, Website Name, launched with over 150,000 views in the first week
And the list goes on. Other potential topic headings could be essays, reviews, blogging and social media, travel writing, grant writing, etc.
This writer also has editorial and proofreading work. Those with enough experience to delineate their editorial work might want to break it down into several different job titles like line editing, copyediting, managing editing, etc. Let's take a look at the example, and how they describe their work. Again, choosing to cite companies or specific projects often depends on if the company retained the writer for a while, or if the writer completed just one project. This writer has positioned their most well-known title that they've worked on at the very top. Also note that they've described what format they've edited/proofread in, as sometimes publishers ask for specific experience in one type of editing/proofreading.
Proofreading and Editing
"Title of Most Well Known Book" by Author Name, Publisher Name, second pass cold read of galleys
"Another Title" by Author Name, Publisher Name, line editing
And on
This writer then goes on to highlight some of their most notable projects in their targeted niche areas. This makes it easy for new clients in those areas to pinpoint exactly why the writer/editor is a good fit. In fact, I might even move this higher up in the resume when submitting to the niche area.
Subject Matter Expertise/Niche Areas:
Niche Area One:
Publication in X magazine
Long term employment in X industry
Etc.
This particular resume then ended with a list of references. You might want to keep this private, or, if you do list your references here, make sure you've checked and double-checked that they are ok with fielding calls about you.
Good luck in writing your own freelance writing resume.