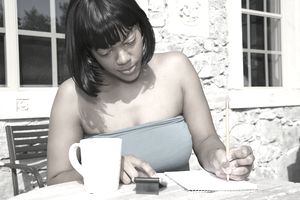 Can I File Schedule C-EZ instead of Schedule C?  
Most small businesses must use Schedule C to calculate their business taxes. Schedule C lists the business income and expenses and calculates the net income of the business. 
Some small companies may be able to use Schedule C-EZ instead. Schedule C-EZ lists only the primary information about the business and includes only a simple calculation of business profit (net income).
What could be easier? 
The IRS says:
Small businesses and statutory employees with expenses of $5,000 or less may be able to file Schedule C-EZ instead of Schedule C.
How to Determine Your  Eligibility to File Schedule C-EZ
Here are the IRS requirements for eligibility to file Schedule C-EZ. You must meet all of these requirements. You can use Schedule C-EZ if you:
What Business Types can file Schedule C-EZ?
That requirement about business types might be a little confusing, so here's more information on the types of businesses that can file Schedule C-EZ (noting that you can have only one business):
Schedule C-EZ and Self-employment Taxes
Small businesses that file Schedule C-EZ for their business taxes must also pay self-employment taxes (Social Security and Medicare tax) on the profit of those businesses. You will need to complete Schedule SE to calculate your self-employment tax and add that to your income tax on your personal tax return.
How Do I Complete Schedule C-EZ?
Because you have a simple business, completing Schedule C-EZ is also a simplified process. 
Part I: Complete the general information about your business:
Part II-Figure Your Net Profit
Total your gross receipts from your business. Do count income from work for others; you may receive a 1099-MISC form for this work. Don't include work for which you were an employee and received a W-2 form. 
Subtract expenses from receipts to get your net profit. For more details on business expenses, you can deduct, check out this article on Business Deductions from A to Z.
 If your business expenses are greater than $5,000 you can't use Schedule C-EZ; you'll have to use Schedule C. 
You may have to use additional lines to provide details on such items as meals and entertainment.
Part III: Provide information about the business use of your vehicle, if you are claiming one for business purposes, you will need to include the miles you drove for business purposes during the year, and personal miles. 
That's all you need to provide on this form. Of course, you should have all the records (the IRS calls this "evidence") on your income, expenses, and vehicle, in case you get audited.
What if I'm Not Eligible to Use Schedule C-EZ?
If your business doesn't meet all the requirements to use Schedule C-EZ, you will need to use the regular Schedule C to file your small business taxes.
Read more about Schedule C, including instructions on how to prepare and file this form.
How Do I Submit Schedule C-EZ to the IRS? 
You will include Schedule C-EZ with your personal tax return. The net income from Schedule C-EZ is entered on Line 12 (Business Income) on the first page of your return.