How to Contact FedEx CEO Fred Smith
Empowered customers, investors, and employees have direct access to CEOs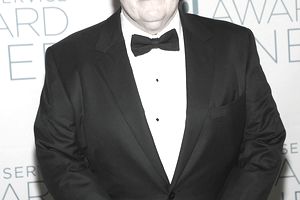 Is it possible to contact the founder, CEO, chairman and president of FedEx directly? It is indeed. An email address, fax number, telephone numbers, and a physical address are all available if you want to get a message to CEO Fred Smith. He's easily accessible via all these means of communication.
Email Contact Information for CEO Fred Smith
Fax Number for Fred Smith
Physical Address to Send Mail Directly to Fred Smith
FedEx Corporation, 942 South Shady Grove Road, Memphis, TN 38120
Contact the Executive Assistant to Fred Smith
Carmine Echols: Phone 901-369-3600 or email executiveservices@fedex.com
Use Social Media 
FedEx has demonstrated its high regard for social media, so posting a message for Fred on FedEx's Twitter or Facebook accounts is likely to get noticed and passed on.
Why Isn't This Information a Deep, Dark Secret?
It's easy to understand why consumers might want contact information for corporate CEOs. It's not as easy to figure out why CEOs would want consumers to have that contact information.
In the age of the empowered consumer, unlimited access is not just a customer expectation. It's often a demand. Consumers want what they want when they want it, and they have unprecedented access these days to air their uncensored grievances in an unlimited number of public forums when they don't get their way. 
Not good, not good at all. Any message made public is just a tweet, share, or repost away from becoming a viral phenomenon or a public relations nightmare.
It's to every company's benefit to encourage people to communicate directly and privately with a company representative rather than take it to social media. Providing easy access to the CEO is much more manageable than uncontrollable access to the masses.
FedEx Is an Example 
The contact information for FedEx CEO Fred Smith was originally provided in conjunction with the recounting of a real-life customer service failure story.
 An executive level contact was a key part of the service recovery and final resolution after that FedEx customer service drama. And that's the most common reason why the average consumer, investor, or employee would want contact information for Fred Smith or any retailing company CEO—to resolve disputes, to right a perceived wrong, or to complain about a dissatisfying experience. 
The most common reason for a consumer to take the time and make an effort to communicate with a company CEO is that any communication that reaches the CEO or the CEO's personal assistant will generally be noticed. It will get a response and hopefully get people in key positions to take action. Even the busiest and most important CEOs of the largest retailing companies tend to assume that any communication that manages to reach their desk, inbox, or social media account is important.  
CEOs know that consumers like to feel important, and customers don't generally seek out retail company CEOs unless and until other employees have made them feel unimportant. 
What Happens Next
Regardless of whether your communication is positive or negative, it will typically move along certain channels after it's received. It usually doesn't generally stop at the CEO's desk, inbox or social media account.
Stakeholder communications might find their way into an employee newsletter as an example of a best or worst practice, along with encouragement to repeat—or to never repeat—that practice. 
Positive communications fielded by the CEO will often make it onto the corporate website, into employee HR files, and even into corporate training programs. If a message is particularly extraordinary or heart-wrenching, it might even find its way into a mass media marketing campaign starring the message sender.