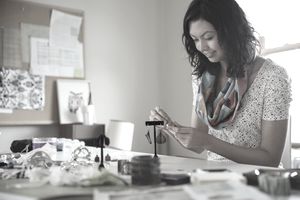 Etsy is a peer-to-peer e-commerce powerhouse for entrepreneurs who want to sell handmade or vintage items online without the hassle of doing it all themselves. There are many types of shops that do well on Etsy including those that sell clothing, jewelry, digital prints, baby products, craft supplies, wedding items and tech accessories. There are many types of shops that do well on Etsy including those that sell clothing, jewelry, digital prints, baby products, craft supplies, wedding items and tech accessories.
In fact, Etsy has more than 1.7 million active sellers worldwide who have more than 40 million items for sale. So, you could certainly say that there is something for everyone on Etsy. Which is a good thing, because, with 27 million buyers, the market is huge. Do you have a product that fills a gap in the growing Etsy market? Are you ready to open up an Etsy shop and get selling? The tips and resources below will help get you started.
8 Tips for Starting an Etsy Business
Let's review a few Etsy best practices before you dive headfirst into your first Etsy shop. Walk through the tips below to get prepared before opening your business. This will increase your ability to compete and rise above the competition.
Develop a Moneymaking Product
A mistake made by many independent crafters is thinking that just because they can make something pretty cool by hand, they will be able to sell it easily on Etsy.
But this isn't always the case; every product on Etsy does not have the same potential for bringing in profit. While the development of your product line can certainly start with an item or two that you have made and truly love, success will only come if you do the proper research into the market and into your competition on Etsy.
These tips for creating a winning Etsy product line will help you get started from square one, then review these Etsy pricing tips to set the best possible price for your products.
Take Captivating Product Photos
It may sound cliche but a picture really is worth a thousand words. All of your product photos must be interesting and completely representative of the product you're selling. Each photo should tell your potential customer exactly what they can expect to receive with their purchase. Review these four essential product shots you need for every item, then use these product photography tips to start building your online catalog. Keep in mind that you don't need expensive equipment to take great product photos. You can get the right shots with your smartphone.
Don't Rush Your Product Description
Once you have a plan for your product photos, it's time to further captivate your potential customers with an attractive and engaging product description. This is where you have a chance to truly personalize your product by talking about how you made it, what the process was like for you and what you hope the customer will get out of it. Make sure you use keyword tags so your product can be found when someone searches Etsy, and remember these simple SEO tips so you can be found when someone searches Google, too.
Brand Your Shop
A big part of being successful on Etsy is setting yourself apart from the competition, and the best way to do this is by creating a strong and unique brand that is carried from your shop to your products to your packaging. Start by coming up with the right name for your shop. Then make sure you complete your About page and customize your shop with a logo and banner that support your brand. Read these tips for creating an Etsy brand, and this Etsy image size cheat sheet will help you make sure all of your branded images are sized appropriately.
Connect With Your Customers
Your customers are the lifeblood of your Etsy business; it's important to make them feel valued so they buy from you repeatedly. There are a few ways to do this. Share your background and the story of your products with your customers so they get to know you (and trust you).
Then, be sure to ask your customers for their feedback (and reviews!) after a purchase and incorporate their suggestions into your products and store where appropriate. And remember that a good experience with your shop can go a long way, so think about the packaging, presentation, and shipping as part of your product and the customers' experience.
Promote With a Mix of SEO, Social Media and Word of Mouth
Promoting an Etsy business doesn't have to cost much. With a little time dedicated to marketing, you can increase traffic to your shop and, hopefully, increase sales, too. Start by using these SEO techniques to help your shop rise to the top of Etsy and Google searches. Then, add in some social media promotion, using those captivating product photos you have to build interest in your products. Lastly, as you continuously connect with your customers and create a happy client base, they will be encouraged to share their experience with friends and family, creating word of mouth marketing for your shop.
Use Shop Announcements
The shop announcement is the area at the top of your shop page. You can use this to announce sales, special offers, low-inventory items and more. This is the perfect area to add links to featured or new products, or even to your About page. Use search engine optimized content here for an added boost that can help your shop get found in search. This article has more ideas on how to use shop announcements on Etsy.
Don't Put All Your Eggs in Your Etsy Basket
Just because you have an Etsy shop doesn't mean you don't need your own standalone website. In fact, there are a number of reasons why Etsy sellers should have their own website in addition to an Etsy shop. Possibly the biggest perk is that you have total control over a website you build on your own, giving you the ability to scale your ecommerce store as your sales and customers grow. At a minimum, your website can as an informational hub linking to your Etsy store, generating search traffic and creating another way to funnel visitors to your Etsy shop to make a purchase.
Etsy Resources to Make Your Shop a Success
One very useful thing about Etsy as a commerce platform is that the site provides an immense about of help to new sellers. There are many Etsy-created resources available to you to learn how to do things, get answers to questions and improve your products. Explore the seven resources below as you get started with your Etsy business.
Etsy Seller Handbook 
Comprehensive Etsy 101 guide that provides advice from Etsy pros on how to run a successful Etsy shop.
Etsy Quick Guide to Get Selling
A streamlined "how to" guide that gets right to the point if you don't have time to go through the entire Seller Handbook.
Etsy Apps 
This is a list of apps and tools that integrate with Etsy and offer features and functionality that go beyond the basic Etsy setup.
Etsy Help
Use Etsy's help site to search for answers by topic, keywords or phrases.
Etsy Forums
Post a question, search for answers or share your own expertise and advice in the Etsy Forums.
Etsy Facebook Community
If you are a Facebook user, join the tens of thousands of Etsy sellers in the Etsy Facebook community.
Etsy Support on Twitter 
Prefer Twitter instead? Tweet your questions right to @etsyhelp for quick advice.