8 Ways Nonprofits Can Engage Millennial Donors and Volunteers
Social, Shareable, Mobile Scores With Millennials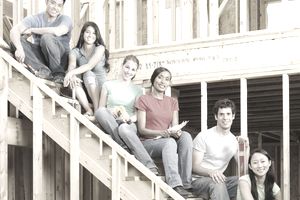 Millennials, also known as NextGen, reached young adulthood around the year 2000. They tend to be between the ages of 20-35, and, despite popular myths, they are an incredibly active and passionate generation.
Marketing agency Achieve partnered with the Case Foundation to develop a comprehensive study on Millennials (ages 20-30). They thoroughly analyzed this generation's participation in and connection to causes and nonprofit organizations.
Based on the findings from this fantastic report, I came up with eight ways that nonprofits can engage millennial donors and volunteers.
1. Keep your information updated.
Your nonprofit website, social media platforms and other information must be continually updated with fresh, relevant information.
For Millennials, technology is a part of everyday life. They grew up using smartphones and tablets, and they are accustomed to a lifestyle that is always "on" and where information is always readily accessible.
Millennials have no tolerance for outdated websites that function like static brochures. Posting a photo or video in real time with an update on a project is the best way to stay relevant and get the attention of nextgen supporters.
2. Make everything mobile friendly.
Your website must also be accessible to a visitor no matter where they are coming from – a mobile phone, a tablet or a desktop.
Did you know that a typical website receives more than 30% of its traffic from mobile devices? Mobile website traffic is expected to overtake desktop Internet access by the end of 2015. 
And mobile communications go way beyond just donating. Surveys have shown that people are more willing than ever to receive content about a broad range of topics via mobile from the charities they support.
3. Use social media – and make your content shareable.
Millennials are fully into social media, with some 90% of 18-29-year-olds using social networking sites.
In fact, donors and volunteers of all ages are increasingly discovering causes via social media and mobile applications.
However, just rehashing your print newsletter and cutting and pasting to Facebook isn't enough. You must be posting information that people want to share with their networks.
As the biggest users of social media, 75% of Millennials like, share or comment on social media posts – potentially spreading the word about your cause to their friends, family, and colleagues.
4. Don't forget email.
Achieve found that 65% of Millennials received emails from one to five nonprofit organizations! 
Make sure that your emails are easy to read on mobile devices, where over half of emails are being read these days.
This means fewer images, shorter blurbs with lots of links out to information and single column layout for easy reading. 
5. Provide multiple donation options.
Despite their reputation as selfish and apathetic, 83% of Millennials gave a monetary gift to a cause in 2012.
Make sure your Donate Now page features multiple ways to give – credit card, check, online, mobile – to make this process easier.
People that have grown up accessing the Internet via mobile devices have no tolerance for a lengthy, complicated donation page that is hard to use.
Also, 52% of Millennials are interested in monthly giving options – does your organization have a monthly giving program?    
6. Be authentic.
Millennials are very marketing savvy, especially online. They know when they are being sold and when an organization or brand is being "cheesy".
They require a dialog in marketing, a two-way conversation. This is a generation that has grown up "cutting the cord," fast-forwarding commercials and ignoring print publications with traditional ads.
You need to make your nonprofit's message part of the conversation that Millennials are already having. Intrusion marketing and advertising are going the way of the dodo… thankfully.
7. Provide unique ways to get involved.
Getting involved with nonprofits doesn't have to mean working at a food bank or making an online donation.
Learning more about the sector and grooming Millennials for future board service or employment is another great way to get them engaged and excited about social cause work.
A number that I found astounding from the report:
Of the Millennials surveyed, 72% were interested in participating in a nonprofit young professional group.
A good example of how nonprofits can tap into this interest is the Young Professionals Group at the Boston Symphony Orchestra. The BSO cultivates young professionals with special packages of tickets and other events.
How can your organization or local nonprofit coalition make this a reality for young professionals?
8. Most importantly – Treat Millennials like your other donors & volunteers.
Just because they are younger does not mean that they do not want to be thanked, acknowledged and updated on the impact of their work and their donation.
Sixty percent of Millennials liked it most when nonprofits share stories about successful projects, and the people helped directly. (Sounds like most donors, doesn't it?)
Millennials tend to be impulsive in their giving, and they are not limited to local causes. They give all over the world, to emergency relief and other crises they see on the news.
Your nonprofit is now competing on a world stage with other organizations. How are you going to set yourself apart?