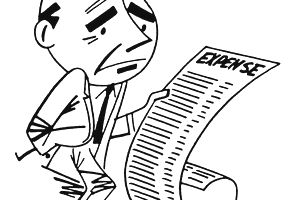 Starting a new business? Don't forget these common monthly or occasional business expenses in your budget and tax planning. 
Although different types of businesses have different expenses, here is a list of the most common businesses expenses which most businesses must pay. Read through the list to be sure you don't miss any of these expenses. Remember, the more expenses you can verify, the lower your monthly - and annual - business income, and the lower your business taxes.
Taxes and Business Expenses
To deduct these expenses on your business tax return, you must be able to prove that they are legitimate business expenses. You can't deduct personal expenses for business tax purposes. Be sure to keep excellent records. I'll point out places where you will need additional documentation. 
Location Costs
Every business needs a place to operate, and there is almost always a cost for the location. It might be a mortgage on a building or rent on a leased office or retail space, or a part of the cost of space in your home business. 
Let's look at some monthly location costs in detail: 
Mortgage: If you own a building and have a mortgage on the building, the interest on the mortgage is deductible. The property itself is an asset that is  depreciated (that is, the purchase cost is spread out over time.)
Building lease: If you are leasing a building or commercial space for your business, you can deduct all the costs associated with the lease.
Home business location: If you have a business in your home, you can deduct some of the costs of the home, based on the space that is used both regularly and exclusively for business purposes. 
Utilities, Phone, and Computer Expenses
Likewise, every business must pay utilities costs: electric, gas, water, sewer, and other city services like trash pickup.
For a home business, these costs are pro-rated, depending on the percentage of the home is being used for the business. If you are renting a location, some of these costs might be included in your rent. Don't forget costs for cell phones and computer Internet lines.
Some equipment that you purchase for your business is considered listed property, a special IRS category that requires you to keep business and personal costs separate.  
 
Other Services and Maintenance Expenses
Other services which most businesses incur are maintenance costs on the facility, equipment, and general maintenance. Businesses also have costs for lawn mowing, snow removal, and other outside costs.
You will need to keep track of amounts you pay for outside services. If you pay someone $600 or more during a year,  you must provide that person with a 1099-MISC form and file that form with the IRS. 
Business Insurances
Every business needs several types of  insurance. For example, you will need property/casualty/liability insurance to cover catastrophic events (like fire and vandalism) and general negligence. You should also have business interruption insurance, which pays if you can't use your business location for a period of time.
In addition, you may need specialized insurance, like malpractice or product liability insurance. Disability insurance on you and other key employees is also a good idea for most businesses.
Wages, Salaries, Payroll Taxes, and Benefits
You will need to pay employees according to the payroll system you have set up, including employee benefits and payroll taxes. You may want to look for a  payroll company to help you with all the complexities of this system. 
Supplies and Other Office Expenses
Every month you will probably need to replenish supplies, including office supplies and materials and special supplies needed for your type of business. You may need to keep an inventory of supplies, if you have a lot of them. 

Professional Fees
Set up a category for professional fees, including those paid to your attorney, CPA/tax advisor and other professional consultants.
You may not pay these people every month, but budget money in this category just in case. 
In many cases, you will also need to give these professionals a 1099-MISC form, as described above. 
 
Loan and Lease Payments
Monthly payments on loans, lines of credit, and leases should be included in your business expenses. Keep track of the interest on these loans for tax purposes. 
 
Advertising and Marketing Costs
Include monthly costs for advertising including social media marketing and other marketing and promotion activities, such as newspaper ads, billboards, and online advertising. You could include web maintenance costs here or put these costs under office expenses. 
 
Business Association Fees
Fees for your membership in a professional association or business group should be included here, as well as professional publications. You can't deduct costs for social clubs (like country clubs), but only those that are directly necessary to your business. 
 
Travel, Driving, and Entertainment Expenses
For these expenses, you will need to:
Include them in your monthly list of expenses and
Keep good records to show the business purpose for each.
Auto and driving expenses. You'll need to keep track of mileage and note date and purpose of the travel. 
Travel expenses, including air travel, hotels, and meals while you travel.
Meals and entertainment expenses.  You will only be able to deduct 50% of these costs, but keep detailed records and include them in your accounting and taxes anyway.
Tax Expenses
You will need to set aside money to pay income taxes, self-employment taxes (Social Security and Medicare for self-employed individuals), unemployment and workers compensation taxes, and other business taxes. Federal income taxes are not deductible, but the other taxes are deductible business expenses.
Miscellaneous Expenses
Most important, don't forget to include an amount for miscellaneous expenses. You never know what might come up, and you will need money to pay for unexpected expenses.