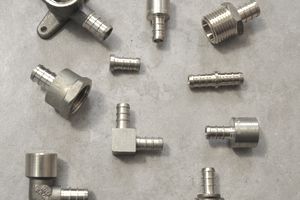 There are several types of PEX fittings and connectors. These type of fittings are classified as directional or transitional as PEX cannot be joined by commonly used solvent cement. Most of PEX manufacturers offer their own fittings but there are also retail services that can offer other types of connectors. However, it is important to be sure that you are using the recommended type of fittings in compliance with their requirements and specs.They should be marked by a certified third-party agency such as NSF, IAPMO, CSA, IGC, UL or other third-party testing and listing agency.
PEX fittings are available in many different connection methods which vary from manufacturer to manufacturer. Each connection method may require a specific tool dedicated to completing a successful connection. Some of these fittings are available at different sites such as Canarsee.com
PEX Crimp Fittings
PEX crimp fittings are the most simple type of fitting used in PEX systems, They normally require a crimp tool or clamp tool that will secure the pipe connection. The clap tool is easier to use than the crimp tool allowing connections while using PEX tubing. Some manufacturers use o-rings on their metal fittings to make the seal with the pipe. ASTM F 1807 is the applicable standard for metal insert fittings. ASTM F 2159 is the applicable standard for plastic fittings. ASTM 2434 is the applicable standard for metal insert fittings with o-rings.
PEX Compression Fittings
Compression fittings are made of three parts: a compression nut, a compression ring, and a compression insert.
They are really simple to install and disassemble and that's why their popularity among plumbers and contractors. They should be used when dealing with multiple connection points or when multiple repairs are needed.
Push-Fit PEX Fittings
Push-Fit fittings do not require tools or rings to make a connection with PEX piping.
A special multi-component locking mechanism allows you to push the PEX pipe into the fitting. That same mechanism allows them to remove it without using any special tools. Push-Fit fittings are commonly manufactured from brass or DZR brass and are compatible with all types of PEX tubing as well as copper and CPVC pipes.
Other PEX Fittings
There are many other types of fittings, although the above two are the preferred fitting options. There are also stainless steel sleeves, Expansion PEX Fittings and Press PEX Fittings. However, PEX can be installed with a minimum amount of fitting, minimizing the potential for leaking and disruptions. Fitting can be minimized, although not always the case, if you follow the following tips:
Bend the pipes when changing directions
Use manifolds to feed multiple lines together.
Group plumbing fixtures together
Minimize pipe lengths
Choose the right PEX pipe diameter
Use PEX color coding. Hot, cold and greywater should be color-coded differently.
Bundled pipe runs reducing installation time as well
Plan transition points accordingly.
Advantages of PEX Fittings
PEX fittings will offer you additional benefits if they are installed at the right place and using the right tools.
PEX fittings will increase cost -effectiveness of PEX plumbing systems and will offer a more durable connection when compared to traditional copper fittings. PEX systems allow fewer fittings requirements reducing labor costs and minimizing leak potential. PEX fittings will also allow for transitions between PEX piping and other types of piping, by using metallic and/or plastic fittings.