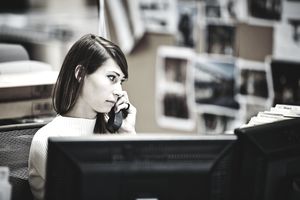 eBay sellers love selling on eBay. We love the thrill of the hunt, the "ca-ching" on our phones, and the Paypal deposits. But returns are one thing that makes sellers nervous. When we see that email that starts with, "A buyer requested to return an item..." we all get a little panicky. Oh great, what now? Is it an item not as described case? Is it buyer's remorse? Will I ever be able to sell this item again?
Don't take it personally. In most cases, you didn't do anything wrong. The item may just not be what the buyer wanted. Before you start letting the "what if" thoughts paralyze you, take a deep breath and think, "Ok, let me see what is going on here and how I can try to satisfy this customer." Take your time, think through the situation, and don't lose your cool.
Assess the Situation
The first action to take when you receive either the dreaded return email or a question from a buyer who is considering a return is to find out what the issue is. Sellers can't help buyers unless they know why the buyer is unhappy. It could be a very easy fix. If the customer sends a message (without actually opening a return request), use professional language and an accommodating attitude to show genuine concern and ask what's going on and how you can help. Here are some sample responses when the buyer contacts you with a vague or unclear question:
We regret to hear that you are unhappy with the item. How can we help?
Our goal is 100% customer satisfaction. We are happy to work with you to resolve this issue.
Please let us know what we can do to make this right.
Then wait and see what the buyer wants. It may be very doable or you may need to negotiate further.
Offer Partial Refunds
It is always better to let the buyer keep the item and offer a partial refund then go though the long drawn-out process of a return and relisting the item. Always try to avoid a return if possible. But always ask the buyer about a partial refund with an open-ended question. Some sellers get nervous and think they have to offer the moon to keep the buyer happy. Or, they offer to let the buyer keep the item and give a refund. Let the buyer tell you what she wants by asking this question:
Perhaps you would like to keep the item and receive a partial refund. If so, what amount do you think is fair?
The inconvenience to the buyer may be much less than you estimate. The buyer might be happy with a very small amount. There is no way you can know how much to refund the buyer unless they tell you what amount they are seeking. This is not playing mind games, it is asking a simple question so that you can appease the buyer, make her happy, and complete the transaction with a positive feedback. 
Accept the Return and Move On
Sometimes the only solution is to accept the return and move on. With eBay's Guarantee, sometimes a return is unavoidable. Make sure the terms of your return are clear in the listing so there is no confusion later:
Does the Buyer pay return shipping?
Does a restocking fee apply?
What is the time period for a return: 14 days, 30 days, or longer? 
What about exchanges vs money back?
Is there a restocking fee?
Think through all of these issues and include terms on your listing so that your policies are clear and the buyer has the right information from the beginning. Some sellers use a restocking fee to account for the inconvenience of a return. If the dispute is about an INAD (item not as described), the seller will always pay return shipping and the restocking fee does not apply. Also, eBay will require that the seller refunds original shipping as well. INADs hurt so avoid them!
Finally, in the case of an INAD, f the item was free or didn't cost much, consider issuing a refund and letting the buyer keep the item. If there really is something wrong with the item, you can't resell it anyway.  Sellers will end up refunding outbound and return shipping so you will be out that money. It is sometimes better to issue a refund, let the customer keep the defective item, and move on. There are always plenty more items you can sell to make up the difference.