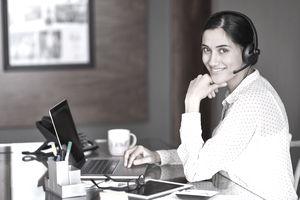 Definition:
Customer Relationship Management (CRM) refers to the methodologies and tools that help businesses manage customer relationships in an organized way.
CRM systems are collaborative; the gathering of data through all phases of the customer relationship (marketing, sales, and service) provides a complete picture, allowing business owners/managers to make informed decisions.
For small businesses, customer relationship management includes:
 - Processes that help identify and target their best customers, generate quality sales leads, and plan and implement marketing campaigns with clear goals and objectives;
- Processes that help form individualized relationships with customers (to improve customer satisfaction) and provide the highest level of customer service to the most profitable customers;
- Processes that provide employees with the information they need to know their customers' wants and needs, and build relationships between the company and its customers.
What Kinds of Data Are Recorded by a CRM System?
The key to an effective CRM system is comprehensive data collection. For example, sales groups cannot properly respond to the customers wants/needs without customer data from service groups, and vice-versa. CRM data includes the following:
Contact details
Customer name
Customer contact information – email, physical address, phone/mobile, website address, social media contact information such as Facebook page, LinkedIn profile, etc. Includes preferred method of contact.
How the customer became aware of your company (web search, newspaper ads, word of mouth, etc.)
Customer Personal Profile
Family information - can be used to send birthday/anniversary/Christmas wishes, etc.
Hobbies - useful for rewarding your best customers with (for example) a golf or ski pass or Christmas gift.
Group memberships, associations - can be useful for generating sales leads with associates of the customer.
This type of information is normally obtained over time as you grow relationships with customers.
Sales history
Products/services purchased, including date/time and transaction amounts.
Method of payment (Paypal, cash, check, credit card).
If purchases made on credit, details of credit terms and history of credit payments.
Response to ad campaigns, promotions, etc.
This information is very useful for analytical purposes. For example, salespeople can examine the frequency of purchases by a customer and send out reminders. Purchase behavior can also be used to tailoring product offerings to suit customer preferences. Customer responses to ad campaigns and promotions is can be used to fine tuning your marketing strategy. Credit payment history can be useful when issues of late payment arise.
Customer communication
How does the customer normally get in touch? Do they prefer email, text, or phone communication? Do they promptly return phone calls, text messages, or emails?
All communications with the customer should be noted - digital contact (texts or email) should be filed, and a record should be kept of phone calls to sales, service or customer support.
Linking your email with the CRM system is a must - most CRM systems have built-in or thirrd party add-on capability to integrate with popular email clients such as Microsoft Outlook.
Customer Feedback
Customer satisfaction metrics can point out a variety of issues that must be addressed:
Repeated returns or complaints can point out particular products that are defective or unreliable.
Product/service pricing that is not competitive.
Poor customer service - not responsive to phone or email requests, products/services not delivered as promised, customer complaints not properly dealt with, poorly trained staff, and not "going the extra mile".
CRM Tools
Customer relationship management tools include desktop and browser-based software applications that collect and organize information about customers. For information on CRM tools see What to Look for in a CRM System for Small Business and 5 Inexpensive Online CRM Solutions for Small Businesses.
Note that many top accounting software packages either have available CRM modules or integrate with third party CRM add-ons.
For general information on CRM see Customer and Client Relationship Management.
Also Known As: CRM; sometimes called customer service management. 
Common Misspellings: Customer relationship management.
Examples: Using customer relationship management (CRM) tools, Termite Extermination Inc. was able to develop and implement a marketing plan that increased sales dramatically.