Correcting an Incorrect W-2 and W-3
How the New Deadline Affects W-2 Corrections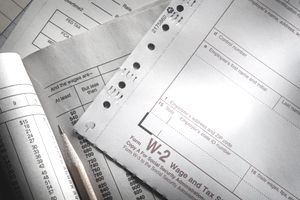 UPDATE: Change in Filing Deadline for W-2 and W-3 forms
A change in the filing deadline for W-2 and W-3 forms will require your business to make changes in your procedures.
The deadline for filing W-2 and W-3 forms with the Social Security Administration (SSA) has been changed. For 2017 forms, the filing deadline is January 31, 2018.
The deadline for filing forms with the SSA is now the same as the deadline for providing W-2 forms to employees.
If you want to give employees time to receive forms and for changes to be made, you will need to give W-2 forms to employees earlier in January. It's much easier to make corrections before filing with the SSA. 
Find more details about the new filing deadline in this article about the 2018 annual payroll tax report deadlines, for 2017 payroll taxes. 
How the Deadline Change Affects W-2 Form Errors
In the past, you had a month to give W-2 forms to employees and make sure they were correct before submitting them to the Social Security Administration. With the two deadlines now the same, you might want to give W-2s to employees early in the month of January, so errors can be corrected. 
Otherwise, you will need to follow this procedure for correcting errors in W-2s and W-3s. 
Correcting W-2s and W-3s using W-2C and W-3C
If you have issued an incorrect W-2 statement to an employee, either before or after you filed the W-3 transmittal form with the Social Security Administration, you must complete a W-2c and a W-3c form.
First, a review of W-2 Form Requirements
You must prepare and distribute a W-2 to each employee, showing his/her wages and withholding for the year, by the end of January of the next year. By the end of January, you must prepare a W-3 transmittal form and send it along with all W-2 forms, to the SSA.
 The exact deadline changes each year because of holidays and weekends. Here's an updated article showing the exact deadlines for the current tax year. 
Errors in Employee Name, SSN
If you previously reported the employee's name or social security number correctly and this year the name/SSN is incorrect, complete the W-2c only through box i. Don't complete the numbered boxes with wage and withholding information. If this is the first time you have incorrectly reported the name/SSN, just re-do the original W-2 and give it to the employee. If you sent the form to the SSA along with the W-3, you will have to do the W-2c and W-3c.
Missing Name or Social Security Number
If the error is a missing employee name or SSN, you cannot use the W-2c to add this information. The Instructions for Forms W-2C and W-3C state that you must contact the SSA directly at 1-800-772-6270.
Error in an Amount on a W-2 Form
If you made an error in an amount, either for withholding or earnings, fill out the W-2c completely, showing the original and corrected amounts. You may also have to file a 941c if you incorrectly reported wages and/or withholding on a 941 - Employer's Quarterly Tax Statement.
Additional Notes 
If you paid wages to an employee in error, these wages are still taxable to the employee.
Don't use a W-2c to report back pay.
You must use a separate W-3c for each type of W-2c (this is the same as if you file different types of W-2s).
Read Instructions Carefully
This article is a general overview on these wage and tax statements; it is not intended to be comprehensive. Before you complete a W-2c or W-3c, read the instructions (found in the documents) carefully.
A Reminder About Late Filing
Be sure to get your W-2s out to your employees by the due date and your W-3s transmitted to the SSA on time to avoid penalties for late distribution and filing.