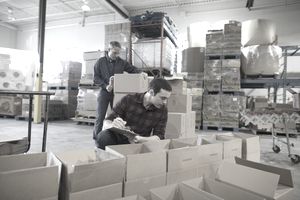 Two questions come up about paying the people who work at nonprofits. 
The first is usually from start-up nonprofits that may be entirely volunteer-driven.  They wonder if a nonprofit can even have paid staff.
The second question comes from organizations worried about how much pay is too much.
So, Can a Nonprofit Pay its Staff?
Yes. State law (which governs your nonprofit incorporation) and the IRS (which regulates your tax-exempt status) allow a nonprofit to pay reasonable salaries to officers,  employees, or agents for services rendered to further the nonprofit corporation's tax-exempt purposes.
Indeed, most nonprofits have staff. Some have thousands of employees, while others employ a couple of key people and then rely on volunteers for most of the essential work. 
One equine therapy nonprofit in my neighborhood pays an Executive Director, an accountant, a fundraiser, a volunteer coordinator, and a therapist. Volunteers take care of the grounds and attend to horses at the sprawling ranch. They even provide some of the therapy to the physically challenged children, who come to ride the horses.  That small organization makes a good example of a combined staff and volunteer effort.
You'll need to decide when it is time to hire employees, how many, and for what jobs.
Does It Matter How Much You Pay Your Staff?
Usually, nonprofit pay is far from excessive, especially compared to salaries in the for-profit world. 
But sometimes organizations do get into trouble because a staff member, usually the CEO or Executive Director, is paid too much.
Large salaries in the millions often occur at large institutions such as medical centers or universities.
There are no hard and fast rules for compensation in a nonprofit, but the IRS can penalize both an organization and an individual for excessive pay. It is all a matter of proportion, according to Stan Hutton and Frances Phillips, authors of the Nonprofit Kit for Dummies (Buy from Amazon).
They say:
"Whether the IRS considers benefits "excessive' depends on the situation. For instance, a staff member earning $100,000 annually from an organization with a budget of $125,000 probably needs to worry, but someone earning $100,000 from a nonprofit with a $5 million budget probably doesn't."
If your nonprofit does pay a staff member too much, you may have to pay an excise tax, and you could lose your tax-exempt status.
The excessive salary issue is covered under the private inurement clause for charitable nonprofits. That clause says that no income from the nonprofit can benefit a private individual. That includes excessive salaries. 
Avoid High Turnover by Paying Well
More of a problem for nonprofits may be their too low pay.  Recent discussions in the nonprofit sector have highlighted the inability of some charities to pay a "living wage" to their employees.  In fact, some studies have found that annual turnover for nonprofits hovers in the 20 percent range, in significant part because of low pay.  
Make sure that your nonprofit's staff receives compensation that is in line with salary surveys of similar groups. Be sure to factor in the cost of living in your area, the size of your budget and the type of service your organization provides.
Be sure to adhere to your state's minimum wage rules and stay up with federal legislation such as the new rules governing overtime pay.
Avoid overpaying or underpaying your staff. The first could get you into trouble and the second will hamper your ability to recruit the best employees.
Cost of Living Calculator is an excellent resource for comparing pay for various types of jobs. You can look there for job titles and their salaries in any geographic area, free of charge. You can also browse the nonprofit job category at GlassDoor, an online job and recruiting site.  
Also, the Chronicle of Philanthropy issues a study of nonprofit executive compensation annually. For a price, you can get the NonProfit Times Salary and Benefits Report.
For more information about compensation see Can Nonprofit Board Members Receive Compensation?
​​
This article is just for informational purposes. It is not intended to be legal advice. Check other sources, such as the IRS, and consult with legal counsel or an accountant.