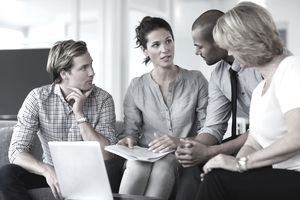 Definition:
Business Planning encompasses all the goals, strategies and actions that you envision taking to ensure your business's survival, prosperity, and growth.
Business Planning Before Startup
Post-Startup Business Planning
The business plan isn't a do-it-and-forget-it business planning exercise but a living document that needs to be updated throughout the life cycle of your business.
Once the business has officially started, business planning will shift to setting and meeting goals and targets. While some businesses make business planning an annual event, business planning is most effective when it's done frequently and consistently. The process of reviewing progress on business goals and targets and setting new ones should take place at least monthly.
Sales Forecasting
A key section of the business plan that needs to be updated annually and monthly and/or quarterly is the sales forecast. The sales forecast is an estimate of the sales of goods and services your business is likely to achieve over the forecast period along and the estimated profit. The forecast should take into account trends in your industry, the general economy, and the projected needs of your primary customers. Here are Three Methods of Sales Forecasting.
Cash Flow Analysis
Another crucial component of business planning is cash flow analysis. Avoiding extended cash flow shortages is vital for businesses, as according to statistics over three quarters of business failures are caused by cash flow problems. Your business may have a large, lucrative order on the books, but if it can't be invoiced until the job is completed and you have to hire staff, purchase inventory, etc. to complete the project you may run into cash flow problems. Performing regular cash flow projections is an important part of business planning.
Daily Planning
Daily business planning is an incredibly effective way for individuals to focus on achieving both their own goals and the goals of the organization.
Business Contingency Planning
In addition to business planning for profit and growth your business should have a contingency plan. Contingency business planning (also known as business continuity planning or disaster planning) is the type of business planning that focuses on dealing with crises. A business contingency plan is a proposed implementation plan to deal with some new emergency, event or new information that may disrupt your business.
The goals of a contingency plan are to:
provide for the safety and security of yourself, your employees, and your customers in the event of a disaster such as a fire, flood, robbery, data breach/loss, illness of key employee, etc.
to ensure that your business is able to resume operations as quickly as possible.
Business Succession Planning
The issues of management, ownership, and taxes can cause a great deal of discord within families unless the a succession plan is in place that clearly outlines the process and has been previously reviewed by all parties involved.
To increase her business's customer base, Laura focused her business planning efforts on developing a marketing plan.