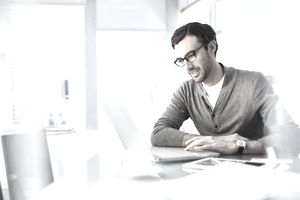 Starting a business is no easy feat. Especially if you're trying to pull it off while you hold onto your day job.
From learning how to prioritize your efforts (and limited resources) on what matters most at the beginning, to becoming a stand-out marketer, and building the skills that'll help your business succeed, these essential online business courses will teach you how to launch successfully today.
Here are my picks for the 12 best online courses for starting a business.
Launching an Online Business with Lewis Howes. In this course on CreativeLive, entrepreneur and author Lewis Howes gives you a foundation to building a profitable online business, based on your own unique skill sets. From idea to launch, Lewis shares his proven strategies for building authority, generating online press, writing viral articles, attracting influencers, and leveraging online communities to start your business with a bang.
Minimum Viable Product: Validate Your Business Idea for Less Than $1,000 with Michael Karnjanaprakorn. This course, taught by the CEO of Skillshare, a rapidly growing online education platform, takes you step-by-step through the incredibly important process of learning how to validate a business idea without breaking the bank. It's a must for anyone looking to start a business in a completely new space.
The Lean Startup with Eric Ries. Taught by the NY Times best-selling author of the book bearing the same name, this course is designed to give you a foundation to minimizing work while maximizing output during the startup phase of your new business. It's a field-tested philosophy that provides you with a toolset to help reduce your chances of failure and increase the probability of success with your concept.
How to Build a Startup with Steve Blank. This course on Udacity is a must, simply based on the breadth of content covered. You'll learn about the history of successful startups and entrepreneurs, all the way through in-depth walkthroughs on developing a business model, formulating your value proposition, discovering your ideal customers, constructing an intelligent revenue model, and much more.
Starting a Business While Working Full-Time with Ryan Robinson. Based on my own experiences with starting 4 successful businesses in the last 6 years, in this course, I teach my 10-step methodology to successfully launching a business while keeping your day job. You get exclusive access to the tools I use, my personal strategies for cheaply validating a business idea, and a step-by-step process to follow for getting your business off the ground as quickly as possible.
The New Business Toolbox with Seth Godin. For 39 years, Seth has been starting and running bootstrapped businesses of his own. In this class, he focuses on teaching you how to recognize and interpret the opportunities (and pitfalls) that are right around the corner for your new business. The class pulls from his own Startup Toolkit methodologies, and you're sure to learn something impactful from this highly engaging, entertaining class.
Mastering Online Sales with Derek Halpern. Taught my the online marketing mastermind, Derek Halpern, this course covers the basics of how to create compelling content and website copy that converts your visitors into paying customers. The system he's developed, is based on his years of research studying the psychology of why we buy, and what motivates us most, to complete a purchase. This course includes in-depth strategies that can apply to products, services, and digital product-based businesses.
Find Your First Profitable Idea with Ramit Sethi. In this course with one of the most reputable online entrepreneurship and finance authorities, you'll learn how to identify opportunities that have the potential to grow into highly lucrative business ideas. Ramit walks you through the process of choosing which idea will have the most potential, all the way through laying the groundwork for getting the most basic form of your business off the ground and out into the world.
Business Class with Melanie Duncan. This course, taught by serial online entrepreneur, Melanie Duncan is designed to teach you how to create a business that you can run from anywhere in the world so that you can live the lifestyle you want. It covers how to implement rigorous criteria for prioritizing where you spend your time and resources during the beginning phases of your business so that you can optimize for maximum impact in the long run.
The Art of the Start with Guy Kawasaki. NY Times best-selling author, entrepreneur, and prolific startup investor, Guy Kawasaki shares the core concepts from his decades of experience as an entrepreneur in Silicon Valley. With a unique focus on recognizing business opportunities that make proper use of your passions, this class revolves around the core concept that those who set out to make meaning are much more likely to succeed than those who set out to make money.
B-School with Marie Forleo. B-School is an eight-week, interactive video course that teaches online entrepreneurs how to become more effective at marketing, writing, and selling within their businesses. The in-depth course has an intense focus on teaching you how to turn your business into a force for good, that simultaneously creates a competitive advantage that makes your customers want to work with you.
How to Start Your Own Side Business with Heather Rees. This foundational course on General Assembly is designed to teach you everything you need to know about launching a business while you hold onto your full-time job. It gives you the steps you need to take to ensure you're legally in the clear, teaches you which common mistakes you need to avoid, and gives you a system for evaluating the key characteristics of successful side businesses.
How you use your time while starting a business, especially if you're still working a full-time job, is of paramount importance. Check out these classes, and learn how to prioritize what matters most as you get your new business off the ground.