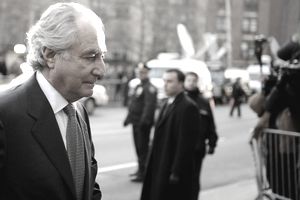 Bernard Madoff (Bernie) is a former Chairman of the NASDAQ stock exchange who started his own investment advisory firm. He pled guilty to defrauding investors in the amount of over $50 billion by running the largest Ponzi scheme on record over at least two decades.
What Did Bernard Madoff Do?
In early December 2008, during the economic meltdown in the United States, Madoff could no longer honor his investors' cash requests. He finally had to come clean and admit what he had been doing. When he admitted to this Ponzi scheme, Wall Street and the world were knocked back on their heels. It was a massive investment fraud that had affected many people including high-profile investors.
Whom Did Madoff Defraud?
Madoff had such a good reputation in the financial community that many of his investors had their life savings invested with him. Some of Madoff's investors included a charitable organization funded by Steven Spielberg, actor Kevin Bacon, the owners of the New York Mets, and others. Large banks and pension funds were scammed by Madoff. Examples include Banco Santander, a Spanish bank; HSBC, a Britsh bank; Royal Bank of Scotland; and Korea Teachers Pension. Some of Madoff's individual investors ended up on the street, living out of cars and RV's.
The Wall Street Journal developed a list of all Madoff's victims.
What Happened to Madoff and the Money?
Madoff pleaded guilty to charges of securities fraud, among others, and was sentenced to 150 years in a maximum-security prison. He is currently serving his time. The courts are still sorting through Madoff's financial records and have been since his arrest, trying to decide how to pay off his investors with the money they can find and which ones should be paid off. Madoff says, from prison, that the big banks defrauded in his scheme were complicit.
Madoff's Family
Madoff's two sons, Mark and Andrew, both worked in his firm but on a side of the business that was not directly connected to the Ponzi scheme Madoff was running. Both have been named in lawsuits and were under investigation, but they didn't face any criminal charges in the $50 billion Ponzi scheme.
Two years to the day after Madoff was arrested for running a Ponzi scheme, his son, Mark Madoff, committed suicide in his New York City apartment building. He did not leave a suicide note, but both brothers were very bitter toward their father and had not spoken to their father or mother in two years.
Ruth Madoff, Bernard's wife, quit seeing Madoff in prison in order to reconcile with her son, Andrew. She settled with the feds for $2.5 million. She revealed that she and Bernie made a suicide pact before he revealed his Ponzi scheme but didn't go through with it.
Andrew Madoff's fiancee, Catherine Hooper, has written a book in cooperation with Laurie Sandell called "Truth and Consequences: Life in the Madoff Family." Andrew and Ruth Madoff will not profit from the book, but Andrew's fiancee will. Many victims of the Madoff Ponzi scheme are angry about this and feel the profits should go to compensate victims.
After Madoff's Ponzi scheme was uncovered, other Ponzi schemes were also uncovered, but none even approaching the size of the Ponzi scheme Bernard Madoff was said to be running.