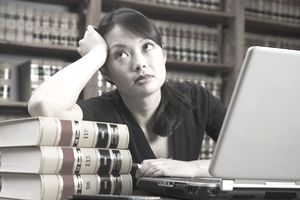 Just as there are many lawyers who love Avvo, there are plenty who dislike it — some even to the point of filing lawsuits against the company. Most of the reasons are related to the lack of control over some of the information publicized about the attorneys on their Avvo profiles. Take a look at the list below of 5 reasons why lawyers hate Avvo. (And if you don't even know what Avvo is, check out What is Avvo?
before reading on to see what's making some lawyers so angry!)
Peer Endorsements are Partly Political
One of the ways that Avvo rates attorneys is based upon the peer endorsements given by other lawyers. This would seem to make it relatively easy for attorneys to get their fellow lawyers to endorse them, particularly in large firms, except for one complication - in order to endorse an attorney, a lawyer has to claim his or her own Avvo profile. Attorney Carroll Strauss partly bases her opinion that "Avvo does a lousy job of rating lawyers" on this problem. Strauss commented that "To get colleague ratings, Avvo rules require the colleague has to get (or set up) their profile. Since this is not something most of us want to take the time to do, only the most political attorneys have these."
Avvo Ratings Often Appear Inaccurate and/or Inconsistent
Attorneys who have spent some time looking around on Avvo keep noticing a peculiar aspect of the attorney rankings.
There are many instances where inexperienced attorneys are given high rankings for no explicable reason, while experienced lawyers may have low rankings. This might be understandable in situations where the experienced lawyer failed to fully complete his or her profile, but when two attorneys have comparable profiles it makes no sense for the inexperienced lawyer to garner a higher ranking.
Lack of Control
Lack of control is a general category that covers several things lawyers hate about Avvo. Most complaints about Avvo revolve around the attorney's inability to completely control what is on the lawyer's profile. Avvo creates a profile for each attorney, whether the attorney wants one or not. Avvo will not delete an attorney's profile, even if the attorney files a lawsuit demanding it be removed.
Avvo posts information about the attorney gathered from public sources, which may not be accurate, and the only way an attorney can remove the inaccurate information is to join Avvo. If an attorney has been subjected to disciplinary action by the state bar association, that information is prominently disclosed on the lawyer's profile.
Avvo gives attorneys a ranking that they cannot control, except to a limited extent by spending hours padding their profile with more and more information until something they list raises their score. Avvo lets anyone write virtually anything about any attorney on their profile without verifying that the person was really a client, and does not give attorneys the ability to have the information removed (except possibly in instances of obscenity or spam).
And once an attorney claims his or her profile, the attorney is not able to unclaim it. Attorneys generally dislike not being able to control information about them, particularly when it can have such a direct impact on their incomes, so everything that Avvo does beyond a lawyer's control is a source of hostility.
Avvo May Be an Ethics Violation
Could joining Avvo lead to an attorney being charged with an ethics violation? According to South Carolina attorney Kirsten Small, who conducts seminars on ethics and social networking, the South Carolina Rules of Professional Conduct impose a strict prohibition on client testimonials. If an attorney knows that a website is posting information that violates the rules of professional conduct, then the attorney has an obligation to ask that the information is removed.
If the site refuses to remove the information, then the attorney is required to disassociate from the site. Because Avvo allows client testimonials (good or bad), does not allow attorneys to have client testimonials removed, and does not allow lawyers to unclaim a profile once it has been claimed, the mere act of joining Avvo could trigger ethics problems for attorneys in South Carolina or in states with similar rules.
Avvo Director Conrad Saam views the situation in South Carolina to be "an attempt by the South Carolina bar to scare its constituents out of embracing the internet." Saam points out that the ethics opinion that established this rule, South Carolina Ethics Opinion 09-10, specifically states that "this opinion does not take into consideration any constitutional law issues regarding lawyer advertising." In Saam's view, this is because "South Carolina's prohibition on testimonial advertising is plainly unconstitutional."
Avvo is Unresponsive
Some attorneys have complained that Avvo is unresponsive to their concerns. Questions about why an attorney's ranking was lowered receive vague answers. Problems with how paid ads are being run do not get fixed.
Attorneys who have been reprimanded for only minor issues or technical violations of the rules of professional conduct are not allowed to dispute or explain the circumstances on their profiles, leaving them to appear to have misconduct as serious as those attorneys who have been suspended or disbarred for major ethical breaches.
And negative client reviews that the attorneys insist are fraudulent are still displayed on their profiles. Attorneys who have had these experiences with Avvo tend to fall in the group of those who wish they did not have Avvo profiles at all.
If you are also interested to know why some lawyers love the Avvo system, you should also take a look at our article on the 5 Reasons Lawyers Love Avvo.