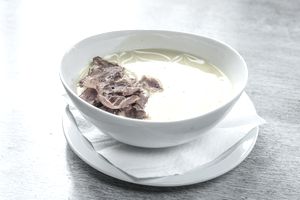 Your restaurant menu should be original. Well, kind of. The ideal restaurant menu offers a balance of unique dishes and old favorites. Consider the basic burger. You can offer it in classic form- plain or with American cheese. And you can also offer a unique version, one that fits with your restaurant theme, like topping a burger with guacamole and pepper jack cheese for a Mexican themed restaurant.
Your Restaurant Menu Should Be Versatile
This simply means that no item on the menu should stand alone. If you offer a fresh lobster roll, be sure to include lobster in other dishes as well. Otherwise, if you don't sell any lobster rolls, the lobster meat will spoil, and throwing food away in the restaurant kitchen is akin to throwing money away. 
Your Restaurant Menu Should Have the Correct Food Cost
In order to keep profits up and prices affordable for customers, each item on your restaurant menu should be priced to determine its food cost- the actual amount it costs you to make the dish. Pricey ingredients (like aforementioned lobster) equates to pricey menus. This doesn't mean the food you order should be the cheapest available- quality is the most important aspect of creating menu items- but you need to balance high and low food costs to for a reasonable profit margin.
Your Restaurant Menu Items Should Be Easy to Prepare
Nothing will bog a restaurant kitchen down faster during the dinner rush than complex menu items that take a long time to prepare.
Menu items should be one of two things: easy to prepare on the spot (sauté, grill, etc…) or easy to prepare ahead of time and reheat (lasagna, cooked pasta, prime rib).
Your Restaurant Menu Should Have an Easy to Read Format
Hard to read font and too much text make it difficult for patrons to read your restaurant menu.
Keep your menu design simple and avoid using too much culinary jargon (amuse bouche, I'm talking to you). 
Your Restaurant Menu Should Be a Manageable Size
The sky is not your limit when it comes to your restaurant menu. Avoid the temptation to offer a huge selection of items, otherwise, you will inevitably be tossing food at the end of the night. Also, consider what your restaurant kitchen is capable of producing. Are there enough stations to offer grilled items, sautéed dishes, salads, soups, baked goods, etc…
You Should Know When to Update Your Restaurant Menu
No menu should be set in stone (or laminated- ever). In order to keep your food cost in check and keep up with the other costs of owning your own restaurant, you should update your menu at least once a year. This doesn't mean that you have to rewrite the whole menu or add all new dishes. It is simply a good time to make sure that prices are where they should be and to assess menu items and nix any that aren't selling.
You Should Know What to Avoid on Your Restaurant Menu
There is a laundry list of things to avoid on a restaurant menu, like hard to read font or overly descriptive language. Remember, your menu is a like an ambassador for your restaurant, and you want to put your best foot forward.
You Should Know When to Offer Special Restaurant Menus
Busy holidays like Mother's Day or Valentine's Day often merit a special prix fixe menu, in order to keep the kitchen from being in the weeds the entire night. A prix fixe menu limits the number of items available at a given time, making it easier for the kitchen to turn out a large number of meals in a short span of time. Even if it isn't a holiday, a prix fixe menu also acts as a great promotion during slow times. Special two-for-one prix menus or a wine tasting prix fixe menu are great restaurant promotions to get people through the door, even during hard economic times.
You Should Always Proof-Read Your Menu
Have you ever offered "fresh muscles" or "chicken and broccoli alfredo." Before you print your menus (including nightly specials) have a second or third set of eyes check for typos.
Enough said.