A Profile of eBay's Corporate Structure
The company has billions in brands and platforms in strategic areas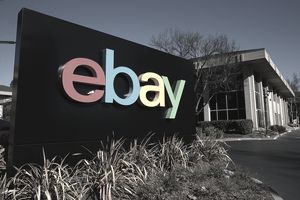 eBay is one of the world's premier online properties and the corporate home of a number of successful Internet brands, but how familiar are you with its structure? With nearly 100 million active users, eBay's core marketplace site hosts millions of retail and wholesale transactions in some 30 countries every day. Better your understanding of the inner workings of eBay with this profile.
Core Businesses, Figures, and Numbers
Headquartered in San Jose, California, eBay corporation has two core businesses: a payments business of which PayPal is the flagship brand and platform as well as a marketplaces business of which the eBay is the flagship brand.
While eBay formerly had a third core business in the communications space with Skype, which it acquired in 2005 and built into a 500-million-user juggernaut, eBay's majority stake in Skype was sold to a consortium of investors in late 2009, though eBay retains a minority interest in the platform.
Founded in 1995 by 28-year-old Internet entrepreneur Pierre Omidyar, eBay is headed today by president and CEO Devin Wenig, who took over from former president and CEO John Donahoe in July 2015. eBay, Inc. employs some 17,700 workers around the world.
eBay was taken public in 1998 and today enjoys a market capitalization of approximately $40 billion. In 2010, eBay's marketplace trading volume amounted to nearly $62 billion in transactions, and its payments processing volume amounted to some $92 billion in payments. According to SEC filings, eBay's revenue in 2010 amounted to some $9 billion with approximately $2 billion of operating income.
History, Strategy, and Market Position
eBay's position in the e-commerce, retail and payments landscapes continues to change as each of these sectors evolves. eBay's 1998 IPO occurred during the fabled "dot-com bubble" and was influenced by many of the forces that made other technology and Internet IPOs so (in)famous.
eBay's initial $18 target price gave way to a steady climb, reaching a high of just over $58 per share in 2004 before embarking on a steady decline. eBay's revenue growth was initially 30 percent or more year over year, making eBay one of the breakout winners of the dot-com race.
In recent quarters, however, year-over-year growth has slowed, with an increasing proportion of overall growth coming from its payments business and an ongoing process of reorganization and strategic change coming to characterize the marketplace business. Some of the declines and difficulty in this latter sector are due to increasing competition from competitors, most notably Amazon.com and Google.
Recent economic conditions had also taken a toll, with revenue, profit, listing volume, and share price all falling through 2008 and into 2009 before something of a turnaround took hold on the strength of new strategic orientations both in core businesses and marketplace platform structure, pricing, and policy.
The changes implemented during John Donahoe's tenure have proven to be controversial as shifts in rules and fees structures and an increased orientation toward high-volume, fixed-price retail channel selling has alienated portions of eBay's traditional community even as the competitive landscape around eBay stiffens. The recent turnaround in critical metrics was prefaced by a 2008 restructuring and a matching round of layoffs that appear to have served their purpose, at least for the moment.
eBay's 2011 acquisition of GSI Commerce Inc. for some $2.4 billion was eBay's largest acquisition since the $2.6 billion acquisition of Skype in 2005. The acquisition may signal eBay's move into yet another core business area, that of major-brand and retail marketing, customer service and e-commerce, as eBay finds ways to leverage the GSI client list and integrate it with marketplace and payments strategy. Prominent GSI clients include such names as Levi Strauss, Adidas, ToysRUs, Hewlett Packard, Radio Shack, Bath and Body Works, Ace Hardware and GNC.
Sustainability and Giving
eBay's Giving Works program has become known for enabling socially conscious development and philanthropy in a number of local contexts throughout the world. Amongst the key brands and properties involved in such activity are MicroPlace, the prominent global microfinance platform, sustainable and fair trade trading platform WorldofGood.com and the eBay Foundation's Opportunity Project, which seeks to support the market-driven development and anti-poverty innovation.
Holdings
eBay's holdings and partnerships continue to influence eBay's trajectory for better and for worse, amongst them a number of well-known brands and companies. Holdings include PayPal, BillMeLater, StubHub, GSI Commerce, Shopping.com, Half.com, ProStores, Rent.com, eBay Classifieds, Kijiji, brands4friends, Gumtree, Milo.com, and RedLaser, among others. eBay maintains partnerships with and/or minority stakes in Skype, MercadoLibre, Craigslist, ChannelAdvisor, EachNet, mFoundry, Union Mobile Pay and others.
Note: This page will be updated periodically.