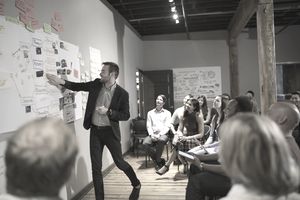 Crowdfunding is all about marketing. While it may look like magic, most successful crowdfunding campaigns are accompanied by well-crafted marketing campaigns. Rarely does a crowdfunding campaign hit its fundraising targets without real marketing.
Many entrepreneurs handle building out successful crowdfunding reward programs and marketing themselves. Others, especially if they have a budget to spend on PR, hire professionals to help get the word out to communities of potential backers.
How to choose a crowdfunding PR firm
Before I begin listing the top firms in the industry, it's worth stopping and asking how to compare one firm against the other. All of these crowdfunding PR firms are focused on one thing: raising money for crowdfunding campaigns. They differ in how they go about building out your campaigns and their expertise.
Here's a great list of ways PR firms focused on crowdfunding differ (thank you to Fanuel Dewever for a great post on Quora).
Knowledge about you and your organization. Do they "get" you and what drives you to do this project.
Knowledge about your target market. Do the understand what drives value in the long run?
Knowledge about your ecosystem of "believers." Who cares enough about you and your project. 
Access to your target ecosystem. Can people be identified and reached with personalized messaging to engage them in your project?
Storytelling skills. Can they shape your story in a way that convinces and converts, while staying true to your goals?
Reward planning skills. Does your partner understand how to set up a reward structure that is convincing for backers as well as balanced towards reaching your campaign goals?
A List of the Best PR Firms for Crowdfunding
Command Partners (website): Founded by Roy Morejon, Command Partners is a digital marketing, advertising, and Public Relations agency. That means, they can fully service building buzz around a crowdfunding campaign by getting reporters to pay attention to crowdfunding campaigns, by buying web traffic to hit the campaign pages on one of the largest crowdfunding platforms, They've worked with some high-profile crowdfunding campaigns like HEXO+, Bunch O Balloons, and GOKey, raising millions of dollars in crowdfunding backing for their clients.
Funded Today (website): Funded Today has emerged as an entire service platform for crowdfunding project creators and backers. Founders Zach Smith and Thomas Alvord are educators, lecturers, and go-to marketing consultants for some of the largest crowdfunding campaigns. They raised millions of dollars in total for campaigns like Trunkster, BetterBack, and Free Wavz (see Funded Today's case studies here). According to Quora, founder Zach Smith says that his firm doesn't charge for the campaigns, instead of taking a piece of all the money raised.
CrowdBooster: This crowdfunding marketing firm uses a 3 step process to launch its client's crowdfunding campaigns: Analyze, Promote, Blast Off. CrowdBooster charges a one-time reasonable fee (ranging from $199 to $499) and builds crowds optimizes and builds crowds around Kickstarter and Indiegogo crowdfunding campaigns. The firm does a lot of work on social media channels, as well.
GoGoStarters (website):GoGoStarters bills itself as a Kickstarter and Indiegogo marketing agency and has been the marketing muscle behind millions of dollars of crowdfunding campaigns, including high-profile products like AIRTIME, Equil Smartpen 2, EcoQube C, LIFX, and KANO DIY Computer (see the campaigns that used GoGoStarters to achieve crowdfunding success here). Like some of the other crowdfunding PR firms, GoGoStarters doesn't take money upfront and chooses to charge for its Kickstarter promotion service as a revenue share of the money the firm raises for its clients.
Agency 2.0: Agency 2.0 is the product of years of experience in marketing, digital media, advocacy, branding & experiential marketing for online fundraising. You might have heard about this full-service crowdfunding marketing agency through its work behind The Jay DeMerit Story - a documentary chronicling Jay DeMerit's incredible journey from Sunday park soccer league to the 2010 World Cup. The agency has gone on to raise millions of dollars for campaigns like Touchpico, KREYOS, Micro Drone 3.0.
If you're planning on launching a crowdfunding campaign, you'll need to focus on your marketing. If you have a budget and find a good match in a marketing partner, it may make a lot of sense to hire a crowdfunding PR firm.