A Day in the Life of a Real Estate Listing Agent
Listing Agents List and Market Their Clients' Homes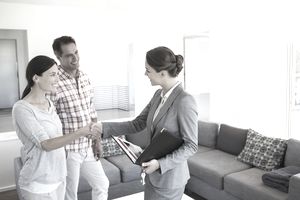 Listing agents specialize in helping owners sell their homes. Real estate agents often specialize in listing properties due to in-depth knowledge of the market conditions in a particular neighborhood or region. Listing agent often, but not always, have many years experience working with both buyers and sellers. Some listing agents get listings because they market their services to homeowners through advertising, while others gain listings exclusively through referrals and repeat business. The most successful listing agents have strong interpersonal and multitasking skills.
Review MLS Activity Reports
Whether in the office on laptops or on the go via smart devices, listing agents typically check recent MLS activity reports at the start of the workday. Knowing about new listings helps listing agents advise homeowners which are the best prices to list their homes for sale. They also keep an eye out for expired listings, as such listings present an opportunity to get new business. 
Prepare for Listing Presentations 
Listing agents spend time putting together presentations to make to prospective clients. Although a listing presentation usually is an informal affair, a listing agent must be prepared to discuss past and present sale prices, times on the market and comparable home features. Listing agents usually print client copies of the neighborhood market analysis as well as the listing contract and have information ready to share on their computing devices.
Hold Open Houses
Listing agents typically hold open houses on Sundays. Open houses take preparation, as such, a listing agent with an open house on the schedule may meet with her client two times or more prior during the week of the open house. A listing agent must make sure that the seller-client's private and personal items are properly secured and that the is home clean, tidy and ready to show. Listing agents also print copies of brochures to distribute to visitors during the open house.
Qualify Potential Buyers
Homebuyers often hire their own agents to represent them, but every so often, a prospective homebuyer might call the listing agent to arrange a viewing. Listing agents typically make sit-down appointments with such buyers to determine their ability to buy before showing their listings.
Followup With Clients
Listing agents usually set time aside for regular followup with their clients. Contacting clients on a weekly basis gives listing agents an opportunity to hear their concerns and address any complaints.
Multitasking Expert
Listing agents work side-by-side with their clients, from getting their homes ready for sale to contract negotiations. They do everything in their power to represent their clients' best interests from listing agreement to closing. The most successful listing agents use a professional and helpful approach to handling their clients whenever their services are needed.