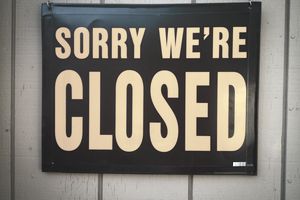 One question that many business owners ask whether they need business income coverage. The answer to that question is best demonstrated by an example. The following scenario shows what can happen if your business property is damaged by wind, a fire, or other peril, and your business is forced to shut down.
Steve's Flowers
Steve owns a flower shop called Steve's Flowers. Steve operates his shop in commercial space he rents downtown. The shop's income is derived entirely from flower sales. Steve buys cut flowers from wholesalers and then sells them to retail customers. He sells some flowers in bunches and others in arrangements.
Steve's Flowers has a work area in the back of the shop that is equipped with a walk-in refrigerator. The walk-in is used to store bulk flowers as well as completed arrangements. The shop also has a retail space for customers. This area has one refrigerator that Steve uses to display small arrangements.
Steve's flower business spends most of its gross income on supplies (flowers, vases, ribbons etc.), rent, payroll, and utilities. Steve's gross income is about $600 per day. He spends an average of $400 per day for rent, utilities, payroll, flowers and other business necessities. The shop earns a pretax profit of $200 per day, which is acceptable to Steve. Steve has insured his shop under a commercial property policy. The policy does not include business income or extra expense coverage.
Steve's Losses
One day, a tornado blows through town, damaging Steve's shop severely. The building is now unusable. The refrigerators are gone. The interior of the shop has been damaged and all of the flowers have been destroyed. Steve submits a claim to his property insurer. A few days later, an insurance adjuster appears to inspect the damage. The adjuster refers Steve to a contractor who can do the repairs. He then issues a check so that Steve can replace the lost refrigerators.
When Steve contacts his equipment supplier, he learns that refrigerators are hard to come by due to the storm. His supplier will deliver new equipment, but it won't arrive for two weeks. He hears more bad news from the contractor. The contractor cannot begin work on Steve's shop for three weeks. The repairs will take a week. Steve's shop could be shut down for a month.
Many (but not all) of Steve's expenses will continue after the disaster even though his business has shut down. Steve must pay his rent and utilities. To keep his wholesale flower contract, Steve must place a minimum order with his supplier. Steve's Flowers is incurring about $300 per day in expenses even though the business isn't generating any revenue. That amounts to $9,000 per month in expenses. Once the business is up and running again, it will need to generate profit for several months to make up for the lost income.
Business Income Coverage
It is now 30 days later. Steve has earned no net income (net profit before income taxes) while the flower shop has been shut down. The business has also incurred $9,000 in continuing expenses ($300 per day times 30). If the tornado had not occurred, the shop would have generated a net profit of $6,000 ($200 per day times 30 days). Because of the storm, Steve's Flowers has suffered a business income loss of $15,000 ($6,000 in lost profit plus $9,000 in continuing expenses). Had Steve purchased business income insurance, his $15,000 loss would have been covered.
Note that some business income forms include a type of deductible called a waiting period. A typical waiting period is 72 hours. A 3-day waiting period would reduce Steve's business income loss payment by approximately $1,500.
Extra Expense Coverage
Suppose that it is the day after the tornado. Steve's flower supplier has not been affected by the storm. Since Steve still has access to flowers, he decides to rent space at another location in which to operate his business temporarily. He will use the alternate space until his permanent location has been repaired. Steve moves some items that have survived the tornado to the temporary location. He rents a refrigerator, buys some supplies, and is up and running within a few days.
If Steve had purchased extra expense coverage, the costs he incurred to operate his business at the temporary location would have been covered. His insurance would have covered the following:
Cost to rent the temporary building
Cost to rent the temporary refrigerator
Cost to move to the temporary location, as well as the cost to move back to his permanent location after repairs have been completed
Cost of supplies needed to operate the business at the temporary location
Finally
While the scenarios outlined above are oversimplified, they demonstrate the value of business income and extra expense coverages. These coverages can prevent a small business from failing after a disaster. A business that lacks these coverages may fail even if it is insured for physical losses under a commercial property policy.